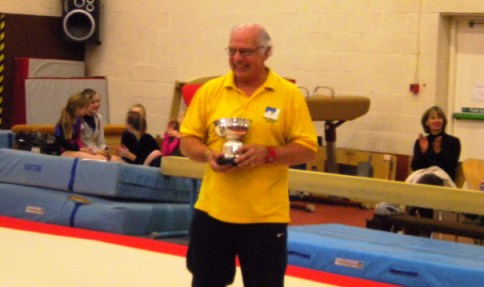 The Wingate Centre  in Wrenbury hosted a Christmas gymnastics display to show off to parents and spectators some of the centre's talent.
At the display, more than 200 spectators saw Crewe and Nantwich Sports Council committee members present two awards.
The Vernon Cooper Trophy was awarded by Council chairman Viv Gorst to Chloe Nelson for a high standard in gymnastics and overcoming her disabilities.
The Malcolm Case Trophy was awarded by Council secretary Alan Dickinson to Stephen Morris (pictured) for his longstanding work with both disabled and non disabled gymnastics.
Diane Smart, senior coach and event organiser, was delighted with the event in which almost 100 gymnasts took part aged four to 18.
She said: "It was the first ever Wingate Christmas Show and it was brilliant to have mainstream and disabled gymnasts participating alongside each other."