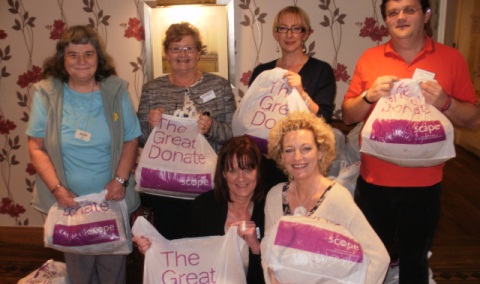 Residents and staff from Richmond Village Nantwich took part in the "Great Donate" as part of a nationwide campaign by charity SCOPE.
The campaign aims to increase donations of good quality items, and Nantwich SCOPE shop staff were also involved.
Wardrobes and cupboards were raided to help fill bags collected by staff and volunteers from the local SCOPE shop.
Each bag is equivalent to £20 which helps support SCOPE in providing physiotherapy for adults  and children with cerebral palsy.
Village advisor Alison Harding said: "We were all delighted to help this very worthwhile cause with the added benefit that our wardrobes now have lots of space!"
(Pic: Jo Cox, Scope Nantwich manager, assistant manager Ian Mack, Nicola Tooke of Richmond Village, and Scope volunteers)