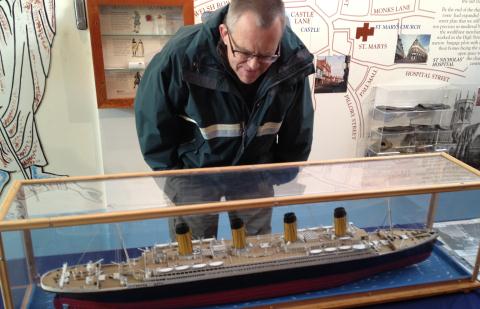 Outlets in Nantwich are commemorating the 100 years since the Titanic sank with displays and collectables on show.
Nantwich Museum is displaying a model of RMS Titanic (pictured) in its main gallery in the week of the 100th anniversary of the ill-fated passenger liner.
The 285:1 scale-model was built by Nantwich resident Frank Wilson and it took him two and a half years to complete.
There is also information about Titanic and newspaper clippings alongside the model.
Nantwich's Oxfam shop is also commemorating the anniversary with a large display of books and music.
Staff ast the store on Pepper Street took in a generous donation from someone and are exhibiting the items all week.
Meanwhile, the Oxfam store is also joining in a nationwide appeal to collect unwanted bras to send off to Senegal.
There has been a lot of publicity in the press about how valuable these are for clothes sellers in that country, the money made is "supporting" hundreds of extended families.
Any bras will be very gratefully if taken to the Nantwich shop, 21 Pepper Street.
(pic courtesy of Jonathan White)