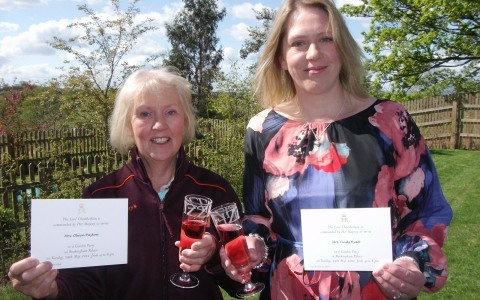 A Nantwich mum and daughter have been invited to join the Queen at her Royal Garden Party in Buckingham Palace.
Olwyn Payton, the PR assistant for Nantwich Sainsbury's, received the invite in honour of her community and charity work.
She will be attending the event in May along with her daughter, Cindy Byatt (pictured together)
Olwyn has been involved in a number of community events and fundraisers, in  particular raising money for the Wingate Children's Centre in Wrenbury, near Nantwich.
She has also helped at local schools, care homes like Richmond Village, as well as animal charities such as Stapeley Grange.
She earned recognition for her commitment to the local community and charity when she won the Scottish Power South Cheshire "Volunteer of the Year"' as well as The Cat Radio 's "Volunteer of the Year".
Olwyn said: "I am absolutely thrilled to receive the invitation to Buckingham Palace, as is my daughter Cindy, who will accompany me.
"I feel really honoured to receive this recognition for my community work.
"But it would not be possible if I did not have the support of my store manager, Pete Jones, my Nantwich colleagues and Sainsbury's."