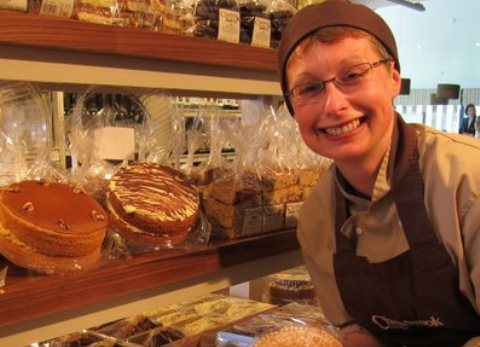 Devoted Debbie Dodd spent years training for a career in floristry – only to discover she was allergic to flowers!
Now the 41-year-old is bringing in the dough at her new job – as a cake baker in Nantwich.
Debbie, who works at Cheerbrook Farm Shop in Stapeley, started out in her mum's flower shop in Haslington.
She then trained and took qualifications in floristry at Reaseheath College, Nantwich, before launching her own business and working in M&S.
"I was driven out of it by hayfever," she said.
"I started suffering runny eyes, nose, the usual, and got it checked out. Turns out I am allergic to cultivated flowers!"
Debbie, a keen mountain biker, took on other jobs at a gym and went back to Marks & Spencer, before seeing the job advertised at Cheerbrook.
"I've always had a love of baking and I wanted to get out of what I was doing," she added.
"I just saw this advertised at Cheerbrook, and when I read it I thought that's now my dream job!"
The nation's love of baking meant more than 40 applicants – from doctors to maintenance officers – applied for the position.
And they entered into a great British bake-off to see who could land the role, with each applicant having to produce the classic Victoria Sponge.
Cheerbrook owner Andrew Shufflebotham said: "Debbie completely fitted the bill.
"Her attention to detail is second to none."
Debbie is now creating a range of delicious in-house cakes and desserts at the popular farm food outlet off Newcastle Road – and not a tear or runny nose in sight!
(pic courtesy of Cheerbrook)