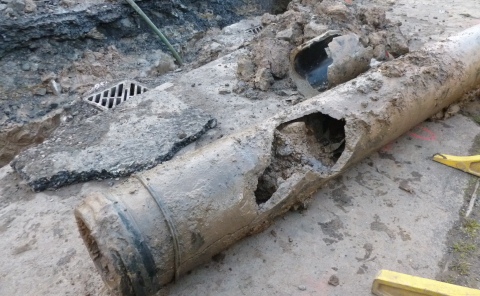 These pictures reveal the size of the burst which caused parts of Wistaston to flood and leave thousands without supplies.
A hole about one-foot long can be seen in the water mains unearthed by engineers repairing the damage along Valley Road in Wistaston.
It flooded the surrounding area near The Woodside pub and left a row of nearby homes and gardens under six inches of water, including Becks Hobbis who told us her story yesterday.
United Utilities men dug out the pipe (pictured) and believe the damage was probably wear and tear as it could be more than 50 years old.
Local resident Jonathan White, who took these pictures, said: "When I arrived they were excavating the broken water main using a Kubota minidigger.
"I spoke to one of the workmen. The cement pipe is thought to date from the 1950s, and it had a hole I would estimate to be at least a foot long.
"I asked about the rupture and he thought it was just due to the age of the pipe. It was a big hole, so I'm not surprised there was localised flooding."
Staff were hoping to complete the repairs last night, but the road could remain closed today (April 23) for re-surfacing.