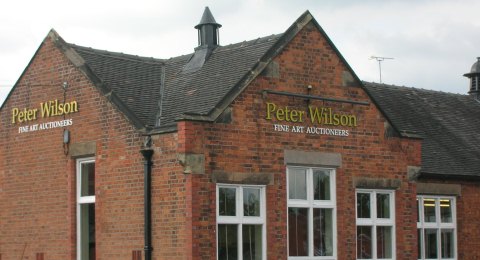 One of the best collections of antique English and continental clocks seen in the North West has sold for £55,000 at a Nantwich auction.
The clocks were consigned by the families of two separate collectors from Cheshire and North Wales.
And they raised some of the highest prices in a two-day auction at Peter Wilson fine art auctioneers on Market Street.
Most valuable was a 17th century and later ebony veneered striking and repeating bracket clock which overturned an estimate of £4,500-5,500 to sell for £6,600.
Close behind at £5,400 was another similar clock, the basket top decorated with neo-classical portrait medallions of Britannia, William of Orange and Queen Mary.
A Cheshire collector paid £2,800 for an ebony veneered striking bracket clock from 1690, the apocryphal nameplate inscribed "Thos Tompion, London".
Another feature of the sale was an impressive single-owner collection of modern contemporary glass which, as auctioneer Robert Stones described, produced an online bidding war among collectors abroad and at home.
The collection of 42 lots sold for a total of £18,000.
In ceramics, one of the earliest pieces of Delftware sold in the Nantwich saleroom, dated 1651, produced the top price in the sale when it was secured by a dealer for a resounding £16,500.
High prices were also recorded among jewellery. Top lot was a single stone diamond ring, the brilliant cut 2.9ct stone set Tiffany style in 18ct gold sold for an above top estimate £6,600.
Entries are now invited for Peter Wilson's next two-day sale of fine art and antiques, which is on July 10-11 and for the weekly Gallery Sales held on most Thursdays.
For details contact the auctioneer on 01270 623878 or auctions@peterwilson.co.uk