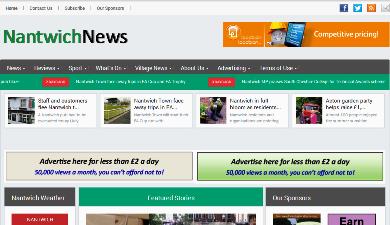 NantwichNews now offers our users more features than ever before to cater for our growing audience.
The site regularly tops 80,000 page views and 30,000 unique users a month.
It now includes a latest news ticker, featured posts slider, a responsive layout for mobiles and tablets, new-look menus, community news, our sponsors page, social media feeds, local links, comments section, banner advertising and much more.
And we offer local businesses the chance to take advantage of our audience – by advertising on the site for just a few pounds a month.
This is why it will benefit YOU:
– Regularly more than 80,000 views a month and 30,000 unique users a month –  equivalent to the entire population of Nantwich!
– More than 5,600 followers on Twitter and growing – stories and advertisers tweeted/retweeted on a regular basis.
– More than 3,000 followers on our Facebook group, with stories and community news posted out every day.
– Hundreds of email subscribers who receive story updates throughout the day, every day.
– Top of organic Google listings for search terms like "Nantwich news", "news in Nantwich" and "what's on in Nantwich" 
– Acknowledged and registered by Google News as a key news provider
– An active audience dedicated to Nantwich news, sport and what's on events
– News on the go – our new layout automatically responds to the latest hand-held digital devices such as smart phones and tablets
– Thousands of readers return every day, returning visitor numbers growing weekly
– FREE listing on "Our Sponsors" page, regularly promoted via all our channels
NantwichNews can provide your business with a large, core customer base perfect for advertising products and services.
You won't pay inflated advertising rates, as NantwichNews has no shareholders to answer to and no print or distribution overheads.
For £1 a day, you can reach tens of thousands of people with your advert.
Your advert can provide a direct link to a webpage of your choice, so you can monitor referrals and click-throughs.
Or you can take a simple listing slot on "Our Sponsors" page for just £20 for the whole year!
For all advertising queries contact us today on sales@thenantwichnews.co.uk
Or call NantwichNews editor Pete Leydon on 07906 492664.