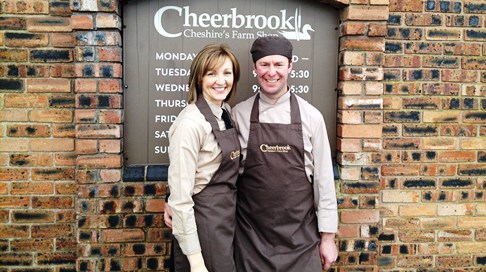 Popular Nantwich farm shop Cheerbrook is in the UK finals of the Farm Retailer of the Year award.
The Newcastle Road venue is also one of six finalists vying for the National Farmers' Retail & Markets Association (FARMA) best on-farm butchery prize.
The farm shop, which opened in 2000,  expanded with a major extension and refit in 2011 when a café was added and now employs 37 staff.
Sarah Shufflebotham, who runs the business with her husband Andrew, said: "We are delighted to be finalists in two categories of these awards, which we know will be hard-fought to select a winner.
"We describe ourselves as an everyday shop for everyday people, with a superb location and a tremendous team of dedicated people that makes every customer, and every visit, special."
Cheerbrook has built its reputation through its butchery counter, sourcing locally-reared meats including award-winning sausages and bacon which are made on site.
"We are also really proud of the amount of produce that we make ourselves," Sarah added.
"If it says Cheerbrook on it, then it's made here in the Cheerbrook kitchen, from the pork pies, Scotch eggs, quiches and pasties that stock our deli, to cakes and treats, to our very own range of delicious ready to cook meals.
"What we don't make ourselves comes from other local producers who we know well, and who share our values."
FARMA judges have visited all the finalists to make their final assessments.
The awards will be announced in Kenilworth, Warwickshire on February 25.
"It's really exciting to gain national recognition for what we're doing at Cheerbrook, and to be a finalist in these awards is testament to the hard work and dedication of our staff and suppliers," Sarah added.
FARMA is a member-owned co-operative, representing around 500 farm shops in the UK.
Association secretary Rita Exner, said: "Cheerbrook Farm Shop knows its strength is superb quality food, and it understands its customers well too.
"Sarah and Andrew, and their team, have created a business that they can be truly proud of, and it richly deserves its place in the finals of the FARMA Awards this year."