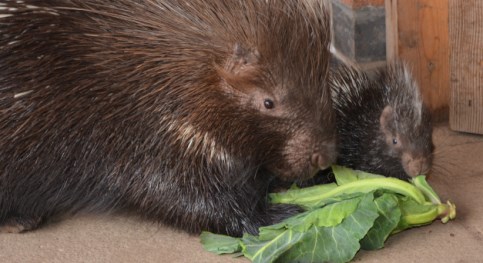 A spiky newborn with attitude is making his first public appearance at Reaseheath College's zoo in Nantwich this Easter.
The baby porcupine, known as a 'porcupette', was born in March to one of the college's three female porcupines.
The youngster has undergone its first health check by zookeepers, who found he was male and at 958 grams has more than doubled its birth weight.
The porcupette is on display in the zoo's courtyard enclosure, along with his mother, grandmother and other family members.
Other newborn zoo animals include a pancake tortoise and a muntjac faun named Marius.
A two-year-old male Asian Small Clawed Otter called Wonga has also joined the collection from a visitor attraction in Devon.
The newcomer is settling in with Reaseheath's female otter 'Ying' and can be seen in the otter enclosure.
Reaseheath's animal collection also includes meerkats, spider monkeys, ring tailed lemurs, a serval cat, birds of prey and many reptiles, amphibians, fish and companion animals like rabbits.
As well as touring enclosures and joining in educational activities, families can learn how to reduce their carbon footprint by joining the Pole to Pole campaign.
The campaign has been adopted by leading zoos and aquariums in Europe and North America and aims to influence the energy consumption of visitors.
Additional activities include an Easter egg hunt. Zoo visitors will get a 10% reduction off plants and vegetables in Reaseheath's Crop Shop.
Reaseheath Zoo is open to the public until Easter Monday April 21, 10am to 5pm (last entry 4pm)
Admission £15 family (2 adults and 3 children); £5 adult; £4 children/concessions. Under 3s free.
More details visit www.reaseheath.ac.uk/zoo or email [email protected]