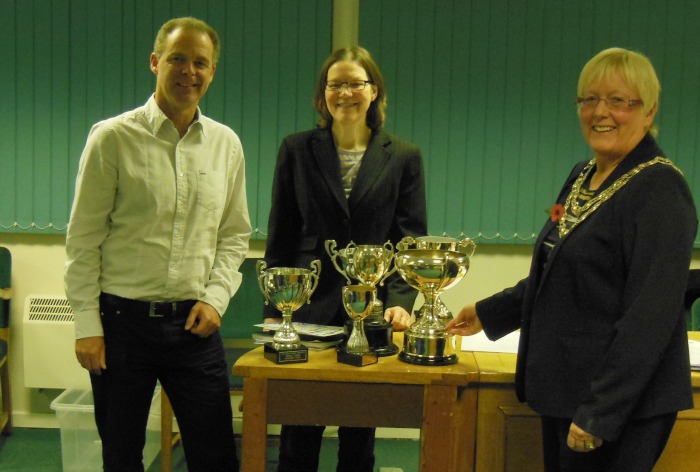 Nantwich Players have again been hailed for their achievements, including 'Best Production', at an awards event, writes Kirsty Rollings.
And representatives of the Players were presented with their winning trophies from the Cheshire Theatre Guilds Awards of 2013-14 at a town council meeting.
The 1920's American play, Death of a Salesman, won the John F Blackburn for Best Production Award, while Simon Porter was awarded with the David Lane Cup for Best Actor in his role of protagonist, Willy Loman.
In the Youth Category, Nantwich Players' Cameron Charmers was named The Most Promising Youngster in The Barry Phillips Award for his part playing Charlie in Private Peaceful.
And the Best Set Presentation was awarded to Nantwich Players for their set in Irish based play, The Lonesome West.
Jeremy Acklam, chairman of Nantwich Players, said: "We are really proud of our achievements and the positive impact that being part of the Players has on our youth.
"Our Youth Team teachers tell us about the great results of the youngsters at the end of the productions. It really is a start for their career.
"As the Nantwich Players, we try to be part of the town. If you come to our theatre, we try to give a quality evening for a reasonable price."
Cllr Christine Farrall, Mayor of Nantwich Town Council, said: "We are so lucky to have our own theatre of amateurs.
"People will travel from all over to see the productions, literally putting Nantwich on the map.
"I am always so proud to go and see Nantwich Players' productions. They are all so gifted!"
The next production to be shown at Nantwich Players theatre is Yes, Prime Minister, from December 5 to 13.
Tickets go on sale on 18th November, and are priced £8 from Nantwich Tourist Office.