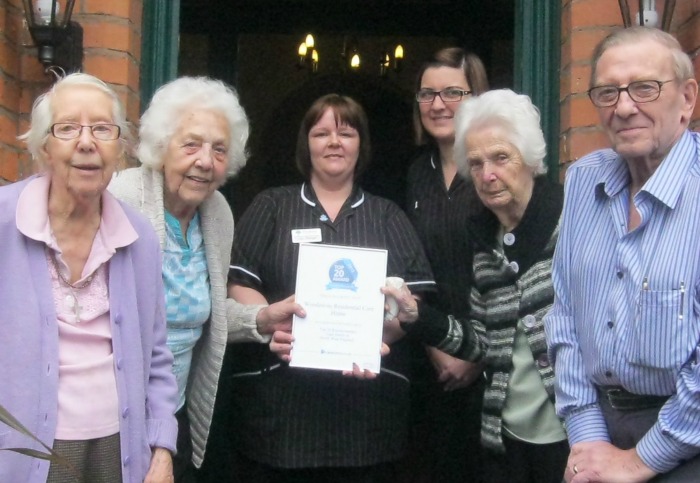 Two Nantwich care homes have been named in the top 20 in the North West.
Woodeaves Residential Care Home was named as the 15th top recommended care home – making it the top most recommended in Nantwich.
Richmond Village Nantwich came 20th in the list, compiled by leading guide site carehome.co.uk
There are 2,043 homes in the North West of England.
The top 20 homes received an award from the leading guide to care homes carehome.co.uk
Awards were based on the home's recommendations from residents, friends and relatives of residents.
Davina Ludlow, director of carehome.co.uk, said: "We felt the best people to say how good a care home really is, are the residents and their families and friends.
"Their recommendations show the warmth and excellent care that exists in so many care homes.
"Woodeaves Residential Care Home and Richmond Village Nantwich have proved they provide great care and we'd like to congratulate them on being top recommended homes in North West England!
"It's a fantastic achievement to be recognised for being a highly recommended home from the people you care for.
"The care homes are named on carehome.co.uk as top rated homes and have received certificates."
Paul Dening, owner of Woodeaves Residential Care Home, said: "This is a great achievement for us and we are very proud and grateful to be so appreciated by our residents and their families.
"I would like to thank everyone who took the time to recommend us and also thank all our staff and management, for it is the quality of the care they provide that has helped us obtain this award.
"carehome.co.uk is our most important source of new residents and this award will further strengthen our reputation on their website."
Manager of Richmond Village Nantwich Lynne Griffith said: "Everyone from our outstanding care team through to our chefs, maintenance and activity teams strive every day to ensure longer, healthier and happier lives for all of our residents.
"To have been awarded following the recommendations of our residents and their families and friends is true testament that we have, and will continue to offer outstanding levels of support and care for everyone living here at Richmond Village Nantwich."