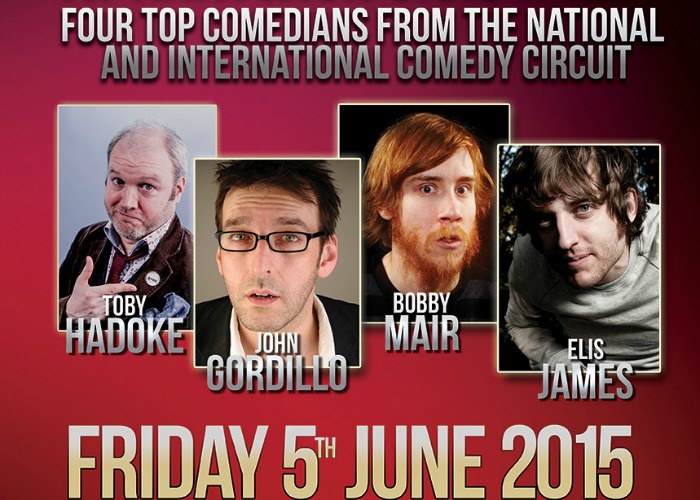 The Very Best in Stand Up comedy season finished in style in Nantwich with four top comedians.
An eclectic gaggle of funnymen brought a bizarre and hilarious mix of humour to the venue – the last show of the 2014-15 season.
And compere Toby Hadoke led the way, with his clever, dry brand of wit warming the audience nicely.
Hadoke, brilliant in describing himself as "geography teacher experiment gone wrong", has a shuffling, likeable style which draws you in.
John Gordillo followed – and certainly added value to Hadoke's opening.
He's a veteran on the comedy circuit by modern day standards, but brought a fresh appeal to Nantwich on is debut.
He delivered original as well as classic gags, and his sketch on star ratings given to the Grand Canyon was brilliant.
His was certainly a five-star performance, which will hopefully see him return to Nantwich again.
Second on stage was Welshman Elis James, who many know as a regular on Channel 4's "Stand Up For The Week" and also took the main role in the BBC Three comedy "Crims".
James was definitely a hit with his cheeky Josh Widdicombe-esque manner.
The baby in the bath sketch was a classic, seat squirmer, and many in the crowd related to his brilliant Euston station gag.
Last on stage was TV panel show host and Canadian comic Bobby Mair.
His is a unique brand – and is not everyone's cup of tea.
Sometimes brilliant, sometimes bizarre, Mair gave a slightly crazy performance with some stunning one-liners, and wild banter with audience members.
Humour has many forms, and this show was a classic example of comedy entertainment in all its varieties.
Once again, the Civic Comedy promoters deserve a pat on the back for delivering these high-value shows.
Roll on the new season, which starts in September!