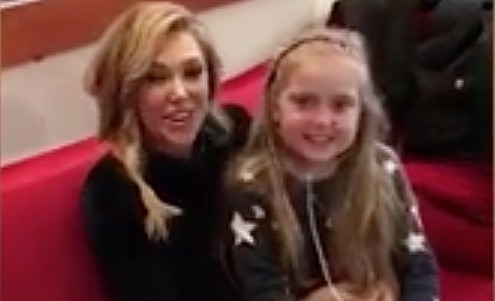 Battling Elle Morris has made a music video with singing star Rachel Platten as part of her Elle's Wishes campaign.
The 10-year-old, from Wrenbury, Nantwich, put together a list of 10 "Elle's Wishes" when her family was told she needed a double lung transplant.
The Stapeley Broad Lane pupil and her mum Becky Whitfield were determined they would fulfil them all – and for wish number seven, they wanted to make a music video to raise funds for CF Trust and Organ Donation.
So Elle chose Fight Song by Rachel Platten, and even got to meet her favourite artist behind the scenes at the recording studios (pictured, above).
Now they are promoting the new video, which has already been viewed more than 73,000 times on social media.
And they are hoping to convince Columbia Records to put it on general release.
Mums at Stapeley Broad Lane School are helping Elle and Becky run the Elle's Wishes campaign on Facebook.
They said: "Our aim is to release the video as a charity download to raise awareness for Organ Donation – with proceeds going to Great Ormond Street Hospital.
"We need permission from Columbia records to do this, however we are going to upload it onto social media as it is, and see if the interest it gets will persuade Columbia to take notice."
Rachel Platten said: "Elle needs oxygen full time and is on a ventilator at night. She has a concoction of medication and therapy and within the last year has had a gastrostomy and portacath fitted, and attends hospital for regular IVs.
"One of her wishes is to make a music video, another to promote Organ Donation.
"Please enjoy the video, follow her story and have a think about joining the Organ Donation register."‬
Many of Elle's other wishes have already been fulfilled, as covered previously by Nantwichnews.
Her campaign has received a huge response, and with help from businesses and the general public making her wishes come true.
Last week, more wishes came true when Elle was a "Princess for a Day" and had a surprise birthday party at Peckforton Castle in Cheshire.
So far, more than £12,000 has been raised for the CF Trust and Elle's Wishes in just two months.
Nantwich hairdressers Johnston Brady offered free cuts and styles today (February 7) in exchange for donations towards CF Trust.