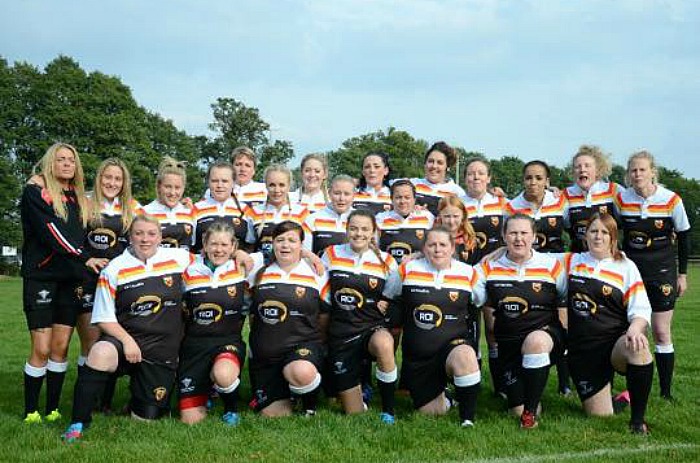 A coach of Crewe & Nantwich RUFC ladies has spoken of his pride after the team won the league in its very first season.
Matt Baty is one of a number of coaches who have helped form the women's side based at the Vagrants.
And in an incredible first campaign, they stormed to success in the National Challenge North West 2 league – winning 10 of 12 games, and remaining unbeaten at home.
Matt is one the coaching team alongside Nick Kennedy, Marc Jones, George Price and Paul Davies.
"I genuinely can't believe how well it has been going," said Matt.
"Women's rugby is the UK's fastest growing women's sport, but still has minority status, particularly in areas of the country dominated by football.
"That we've built a sustainable squad of more than 30 players is one thing, but to win a league against bigger, more established clubs is remarkable.
"I'm particularly proud of our record of introducing players with minimal sporting experience to the game and turning them into rugby players.
"The game is technical, physical and played in the winter months, something that women traditionally shy away from.
"The enthusiasm and attitude the players have shown has exceeded both my and the wider club's expectations."
The team, set up in November 2014 and which played just five friendlies last season, scored 306 points, conceding just 75 during 2015-16.
The defensive record is in the top 10 of all women's leagues (including Premiership).
Their performances have led to two of the players – Kerry-Ann Dynan and Phoebe Jay – being selected for Cheshire.
The playing squad has included Captain Helena Crook, Mollie Latham (Vice Capt), Phoebe Jay (Vice Capt), Louise Reade, Fuchsia Woodward, Kerry-Ann Dynan, Cherie Davies, Debs Sayer, Chelsea Hobbs, Laura Hollinshead, Katie Heirene, Christy Robert, Sally Cox, Jordan Morris, Simone Christopher, Jules Pemberton, Steph Farrar, Georgie Perris-Redding, India Perris-Redding, Lola Tomkinson, Mercedes Lyons, Chiara Teeney, Mary Shepperson, and Nikki Cole.
Such is the growth and attraction, the club has now started an u18 girls section which already supports more than 20 players, coached by George Price, Phoebe Jay and Julian Gilding.