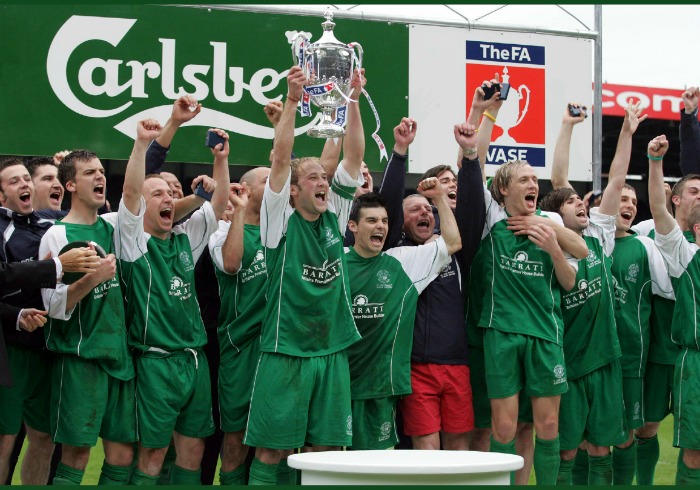 A book celebrating the trimuph of probably Nantwich Town's most successful team has been unveiled.
The 2005/06 season team saw Nantwich Town win the national competition, becoming the first team in Cheshire to win it.
Now, 10 years on, the story of how current Crewe Alexandra boss Steve Davis' men achieved success has been turned into a book.
Former club press officer Richard Scott has penned the book, taking a trip down memory lane and down the road of FA Vase success.
"When Nantwich Turned The Vase Green" looks at every game played by the Dabbers as well as statistics and interviews with many players including then captain and current first team coach Danny Griggs.
It also features player-manager Steve Davis, who has since go on to manage League One side Crewe following the success of the Vase.
The main stories are not the players or the management team – but those who witnessed the run first hand, the fans.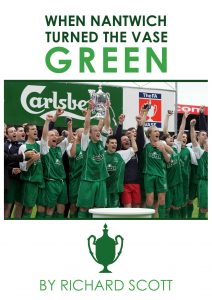 The book is full of amazing anecdotes – from tales of working in the factory where the Dabbers got their suits for the final, to one supporter making a dash through Birmingham to find a jersey for the keeper after a mix up just hours before the kick off.
Also find out where the Vase stayed following the successful capture of one of non league football's most prized trophies.
The book will be launched officially on May 6 when the Nantwich Town Independent Supporters Association, who paid for the publishing of the book, are hosting a reunion night at the Weaver Stadium to celebrate the success.
Tickets are on sale for £6 (£5 for members of the NTISA) and the book will be available to buy on the night, which will cost just £4.
Many of the team who starred in the run will be present on the night and available to sign books and relive the most successful season in the history of Nantwich Town FC.
Author Richard Scott said: "I'm delighted to see the book finally come out.
"It has been just over a year's hard work.
"A lot of the basis for the book come from match reports which have been sourced from the Chronicle, the Sentinel and various editions of The Dabber – the match day programme for Nantwich Town.
"But the main bulk of the story comes from the tales of supporters and players who saw and played in the successful run.
"I want to thank the NTISA who have paid for 'When Nantwich turned the Vase Green' to be published and to for publishing the book.
"Also to Ian Garnett for organising the majority of the memorabilia that has been lent to cover the run and to Michael Chatwin whose assistance with players names and profiles have been a big help in organising stories and content for the book.
"It's fitting that the book is on sale from the 6th May as that is of course the day the Dabbers lifted the Vase."