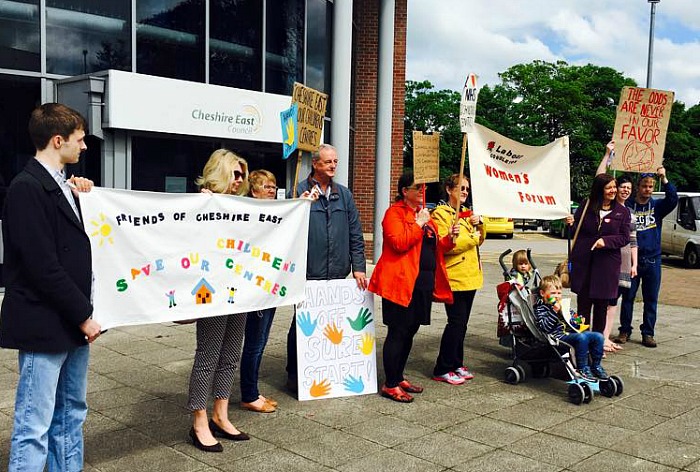 Campaigners fighting to reverse plans for four Sure Start children's centres in South Cheshire have vowed to continue their fight.
Protesters gathered outside a Cheshire East Council scrutiny committee calling for the council to stop the de-designation of Nantwich children's centre on Dog Lane, and those in Knutsford, Sandbach and Broken Cross.
Cheshire East says they are not being closed and will be used for a wider range of services.
They claim the "level of service will continue to be tailored to the local community to meet local need".
But Sally Handley, Nantwich mum who is part of the Friends of Cheshire East Children's Sure Start Centres (FCECSSC) group, said: "The midwifery services have already pulled out as they feel they cannot guarantee the room being there for them.
"If enough of the health partners pull out, then the centres are financially unviable.
"The meeting was arranged after Labour councillors called for it as there was a huge lack of clarity on what the new service will look like."
Maeve Kelly, also spearheading the protest, has called for openness and transparency.
"It's also the lack of an opportunity for the public and the press to meaningfully engage with the overview and scrutiny committee on this topic until the next open committee meeting June 27," she added.
"The next meeting in June is four months after the original decision made by Cheshire East.
"The longer the scrutiny process takes, the more difficult a number of changes may be to reverse if the committee so finds they should.
"Although Cheshire East has made, what we believe to be, some concessions on the children's centre strategy over the past few months, we believe it is only a temporary measure to reassure residents and to outlast our campaign.
"Based on our research and experiences we believe once the spotlight is off our campaign, Cheshire East will start stripping services and supports."
Campaigners claims the four centres have already downgraded staff by letting go managers, reception staff, and moving higher qualified staff to designated children's centres.
"The potential mistakes in calculations of savings, the lack of appropriate consultation with the CE Director of Public Health, the lack of research backing up their current strategy, and the investigations and complaints some councillors have raised on how the consultation process was followed and carried out, are just some of the many reasons we continue with this campaign."
Cheshire East says of 74 services offered across all four sites, only seven are being affected under the shake-up to save £500,000.
They admit several posts will be lost, including management and back office roles, but that staff affected will be redeployed within the authority.
Under proposals, early-years services including new parent groups, baby massage, tiny tots play groups, midwifery and stay-and-play sessions will continue at the centres and in Nantwich's case leased from local school academy trusts.
A mobile service will be run to deliver other services in rural areas.
Councillor Liz Durham, Cabinet member for children and families, said: "Cheshire East has listened to people and their concerns throughout this consultation and has now briefed local elected members on the proposals.
"Rather than closing children's centre services, the council is actually protecting services via a different deliver model and broadening their reach into our wider communities.
"No centres are closing.
"These proposals will allow the council to build on its aspirations for a far more effective delivery of services, working with partners and addressing a far wider range of family needs and concerns."