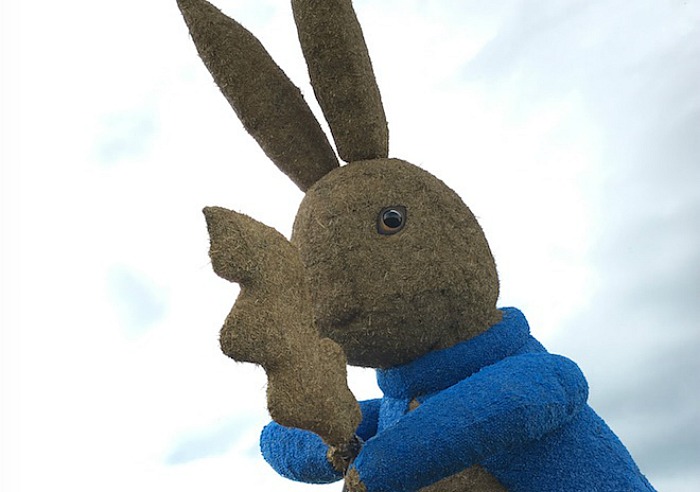 Staff at Nantwich ice cream makers Snugburys are celebrating 150 years since the birth of Beatrix Potter – with this giant straw rabbit!
Potter was one of the world's best-loved children's authors, with Peter Rabbit one of her most famous characters.
So staff and Harbrook Engineering spent 1,000 hours creating this amazing 38ft structure which towers over the A51 at Wardle near Nantwich.
It's the latest in a long line of brilliant sculptures unveiled by Snugburys over the past 10 years.
A spokesperson said: "Our whole family grew up listening to the stories of Peter and his friends, we therefore felt it was only fitting to dedicate this years straw sculpture to Beatrix Potter!"
Work began on the eight-tonne sculpture in March, with the metal frame built by local company Harbrook, led by director Mike Harper.
A team of 10 Snugburys 'stuffers' worked on Peter's fur and jacket. The blue jacket was made by weaving a layer of blue bags over the straw.
Each year, the sculpture helps raise funds for a charity chosen by Snugburys.
And this year they will be raising money for The Children's Adventure Farm Trust.
Sales from hand-made chocolate carrot on ice creams will go to The Children's Adventure Farm Trust.
The trust provides help for terminally ill, disabled and disadvantaged children across the North West.
Previous sculptures at Snugburys include Big Ben, Millennium Eye, an Olympic cyclist, a meerkat, a polar bear among others.
(pic courtesy of www.snugburys.co.uk)