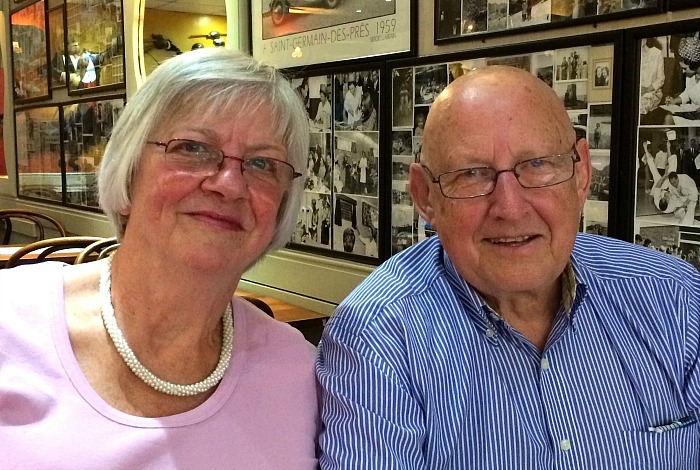 A couple who arrived in Nantwich on a barge holiday and ended up staying for 30 YEARS, are hoping to sail off into the sunset.
Peter and Wendy McCormick have run the popular McCormick's cafe and sandwich bar on Pepper Street for three decades.
Now, both aged 75, they want to sell the business so they can enjoy a well-earned retirement – and a cruise of a lifetime.
But they will be leaving behind many memories of their time in a town they have called home since 1987.
Peter, a former policeman, told Nantwichnews: "We stopped here on a canal holiday more than 30 years ago and we fell in love with the town.
"I was working for a Guinness subsidiary at the time which was looking to open coffee shops. They were a new thing back then.
"That's what gave me the idea – and when we saw the building here, we knew it was the right location and the right town with good tourist trade.
"So we decided to give it a go, and started in 1987 – the same year as Costa Coffee!"
And give it a go they did – despite the estate agent at the time predicting they would last just six months!
The couple, who currently live in Wistaston, turned what was then Cafe Continental into McCormick's, and over the years it became famous around the area.
They survived several recessions, and continued to thrive even in the hard times.
Its walls are adorned with amazing photos from down the years, and old instruments donated by customers.
It also has a stunning fibreglass far wall designed and built by former customer and interior designer, Peter Gill (pictured).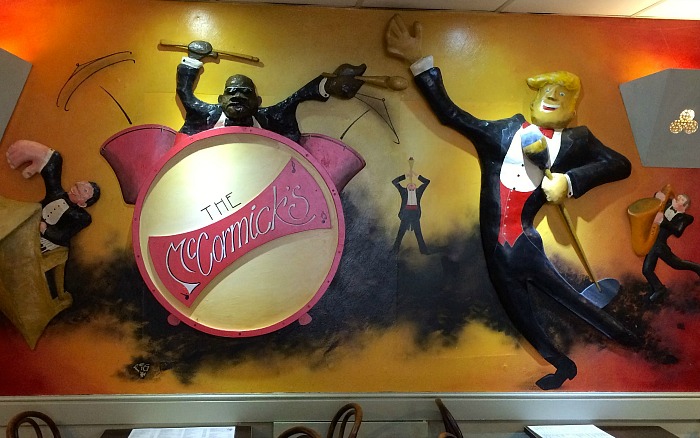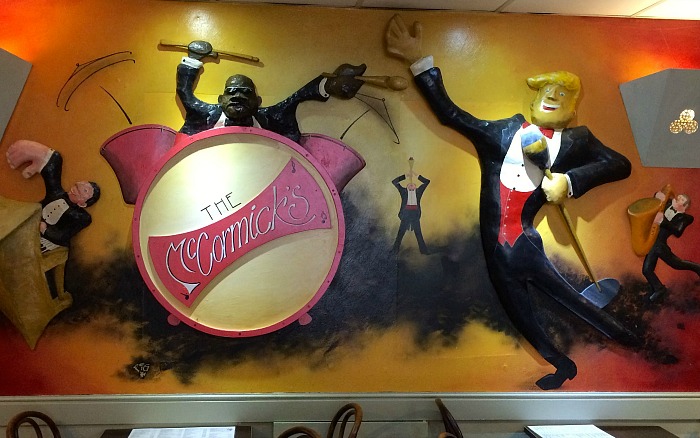 And it's those customers that Peter and Wendy attribute their success to.
"It's changed a bit over the years, there were only three cafes/coffee shops in town when we started," added Peter.
"We've had to keep moving and adapting as the goalposts shift.
"Society has also changed in the last 30 years.
"But we still have a few original customers, even some that span three generations!"
Wendy believes it's the customer service that has been at the heart of their success – as well as great staff.
"We've had brilliant staff, we've been blessed," she added.
"We encourage our staff to strike a rapport with customers, talk to them, be friendly. That's so important.
"If customers feel welcome, they'll come back – and they do, they tell us this.
"We might not remember all their names, but we remember their stories because we take time to listen to them."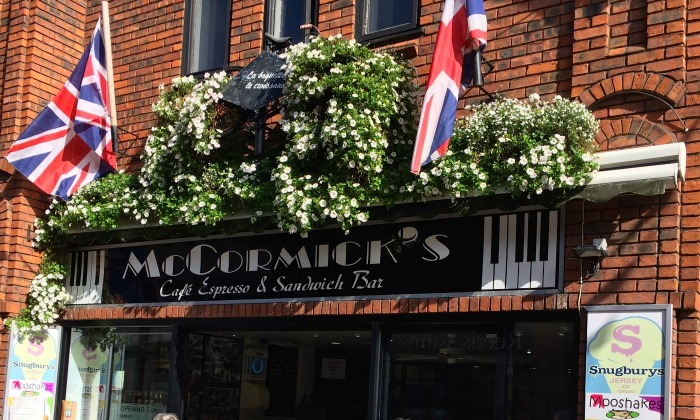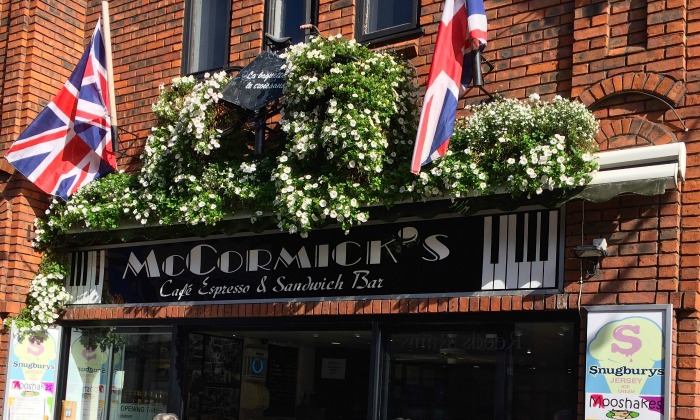 The many memorable customers they have had over the years include Pete Conway, dad of singing superstar Robbie Williams, and more recently Rio Paralympic medallist Andy Small.
"I remember Pete Conway saying he wanted to bring Robbie in to have one of our breakfasts," Peter recalls.
"It was at the height of his fame in the 90s, but I said no – I didn't want the place swamped with hundreds of screaming fans!
"We had one lady who used to throw scones everywhere, and another customer we suspected of being in the IRA so we passed a teapot he used to the police!"
Over the years, the couple have also had five sandwich bars in Deansgate, Chester, Crewe, and Newcastle-under-Lyme, but had to sell these off.
"We did the classic expand too fast and borrow too much money!"
Now, with so many amazing stories in their memory, it's time for the popular couple to start a new chapter in their lives.
They plan to move to Cornwall, after enjoying a cruise to the Far East, to be near their two grown up children John and Nicky, one and grandchild.
John worked in the business with his parents for a while and now runs a successful business called the Wine house in Par in Cornwall, specialising in Cornish beers and spirits.
Nicky is a successful media lawyer now working for one of the world's biggest advertising companies.
"We've had at least 20 inquiries about taking over the place, and most have said they'd want to keep the name McCormick's," added Peter.
"But we don't mind – whoever comes in will want to put their own stamp on it."
The couple have been married for an amazing 52 years – and worked side by side together for much of that.
Now they're hoping another couple will come and lead McCormick's through the next 30 years.
"We've enjoyed every minute of being here and in Nantwich," Wendy added.
"But we just decided that it was the right time for us – and the right time for someone else to enjoy this place."
If you are interested in buying the business, you can find more details by visiting http://www.chaplinbond.co.uk/businesses-for-sale/property/6698373-pepper-street-nantwich