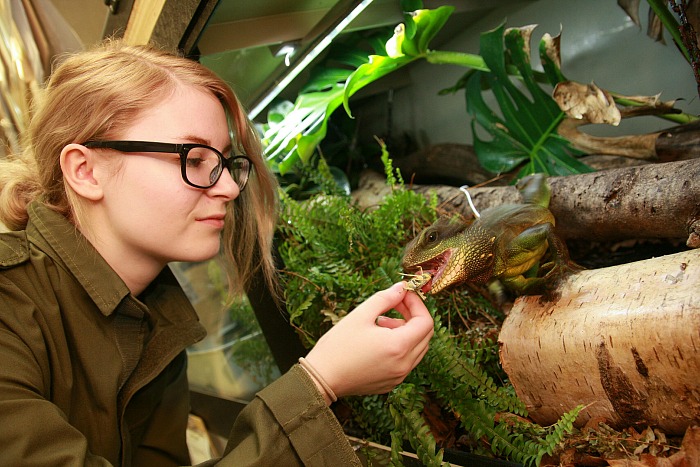 Animal experts in Nantwich are calling for the public not to buy exotic pets for Christmas unless they know how to care for them.
Lauren Lane, deputy manager of the animal collection at Reaseheath Zoo, is concerned unusual pets like snakes, chameleons, turtles, monkeys and parrots are becoming more popular.
And she fears often their special requirements and care are not being met.
She and other members of the zoo team are appealing for families to think carefully before welcoming a new pet into the household.
"Caring for exotic pets is far more complicated than you think," said Lauren, who lectures on the subject at professional seminars and conferences nationwide.
"It's becoming much easier to buy reptiles, amphibians, birds and more unusual mammals.
"But they don't necessarily make good pets because they need specialist management to keep them healthy.
"For instance, reptiles need certain levels of UV lighting.
"Many owners have a UV bulb but have no idea how to measure it to make sure it's correct.
"Fish are often bought as first pets or won as prizes but people don't appreciate they are taking on an animal that could live for more than 30 years and grow to over a foot in length.
"Primates are very social animals and shouldn't be kept on their own.
"Even commonly kept pets like rabbits need specific feeding to avoid digestive problems, a companion to bond with and more space than most people appreciate."
Reaseheath College's animal management department, which trains RSPCA officers on the care of exotic animals, is planning to hold a seminar on the subject next Spring.
It will offer short talks and workshops for pet owners, delivered by college experts.
Topics will include primate behaviour and welfare, requirements and care of reptiles, rabbits and guinea pigs, parrots and birds of prey.
"We want to raise awareness of the minimum care standards required by exotic pets," Lauren added.
"Our team of zoo keepers have a lot of expertise between them and we hope to offer practical and useful help to members of the public who already own or are considering purchasing an exotic pet."
More details on Reaseheath's exotic pet care seminar will be available on www.reaseheath.ac.uk
(Pic: Victoria Copson, a Reaseheath BSc in Animal Behaviour and Welfare graduate, feeds one of Reaseheath's water dragons)