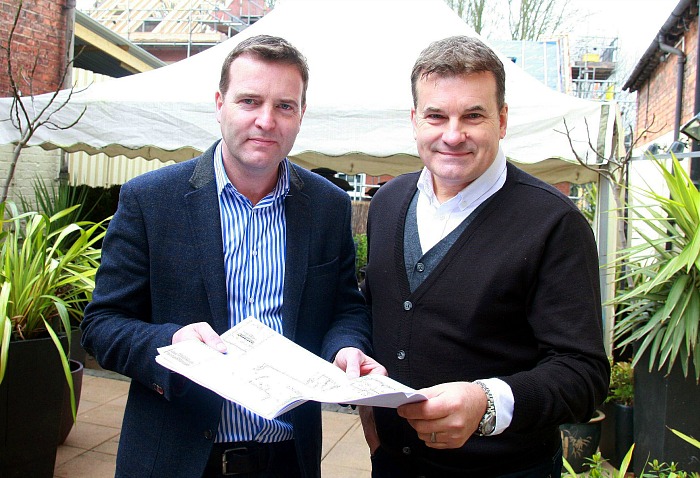 A restaurant owner has unveiled plans to double the capacity of his business and secure its future in Nantwich town centre.
Ben Rafferty, of Residence Restaurant and Bar on Mill Street, has submitted plans to transform a courtyard at the back into an eating and drinking destination as part of a £300,000 facelift.
Designers behind Cheshire fashionable venues like The Botanist in Knutsford and Alchemist in Alderley Edge, will lead the revamp of the existing indoor restaurant and bar and its new outdoor offering constructed in steel and glass.
The Manchester-based team at Paul Danson Imagineering, who were also behind the Orient Dining Area at the Trafford Centre, will incorporate features and their trademark use of mood lighting.
Further details of the scheme are being kept under wraps.
But Mr Rafferty says it will blend modern styling with traditional elements of the Grade II listed Georgian mansion – once the Cheshire home of the Lord Mayor of London.
He said: "Due to increased overheads, including Brexit food and drink cost increases as well as minimum wage and pensions, there's a need to look at extending the business to increase footfall.
"We're currently working to a capacity of 62 covers in the restaurant and increasing the size of the ground floor by utilising the outdoor area will allow us to double that and create more job opportunities.
"Inside, we're aiming for a 'home from home' experience befitting the mansion's past but with some really modern twists.
"It will create a wow factor and offer Nantwich a new attraction that people from miles around will want to visit.
"Outside, the former courtyard will become a new eating and drinking area, a light and airy space, with its own cooking area and cocktail bar.
"Right now we can only use the area weather permitting and this will help the business to thrive and support sustainability.
"Food and drink theatre is what people like to see and I plan to enhance this experience for guests moving forward."
Residence will close in August and part of September when the work is done, but Mr Rafferty expects it to be completed in six weeks.
During the closure there will be a pop-up restaurant on the car-park open to customers at weekends.
He added: "Over the years, Residence has become a 'special occasion' destination.
"Now we want to create somewhere slick and stunning enough for a night out but also relaxing and welcoming to a broader age range.
"We aim to make a huge impact and put Nantwich firmly on the map as the quality culinary destination in Cheshire."
The scheme, which has been submitted to Cheshire East Council, marks the 10th anniversary of Residence.
The venue has trained and employed more than 300 kitchen hands, waiting on staff, bar-tenders and baristas and paid out £2.5m in wages.
Planners are expected to decide on the scheme in April.