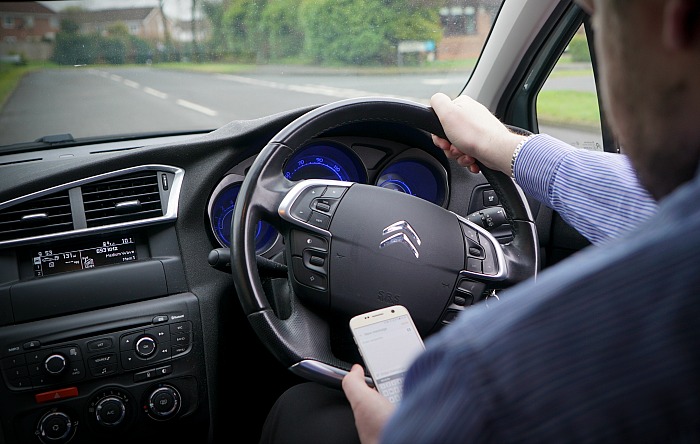 More than 2,400 motorists have been caught by Cheshire Police driving while using a mobile phone so far in 2016-17.
The startling figures were released on the day penalties issued for such an offence double in severity.
The 2,463 tickets issued so far this financial year is a massive rise on the total of 2,062 tickets given out in 2015/16.
From today (March 1), anyone caught driving whilst using a handheld mobile device in Cheshire will receive a £200 fine and six penalty points on their licence.
Offending motorists will also no longer be offered a chance to complete the National Driver Offender Retraining Scheme (NDORS) training course as an alternative.
It could have major ramifications for young drivers, and people who have held their licence for less than two years.
They face the prospect of having their licence revoked on their first offence.
Assistant Chief Constable Darren Martland said: "Driving whilst using a mobile phone is unacceptable, as they can distract drivers, which can put the lives of motorists and pedestrians at risk.
"Our roads policing team deal serious and fatal collisions on a daily basis, which can be harrowing and traumatic, but families are left to deal with the consequences for many years."
Motorists will still have the option to attend court to contest the offence.
But if the court rules against the defendant, the penalty could be increased.
Cheshire Police and Crime Commissioner David Keane said: "Cheshire residents told me road safety is a major priority for them.
"As a result it features strongly within my Police & Crime Plan.
"Driving whilst using a mobile phone is dangerous and in my opinion there is simply no excuse.
"I'm sure the majority of people would agree that it's not worth putting lives at risk simply to take a phone call.
"I hope the new legislation acts as a strong deterrent to motorists who continue to decide to ignore the law."
Assistant Chief Constable Martland added: "We're here to make our roads safer, and we will use all of the tools and powers available to us to help us achieve our goal.
"The message is clear; driving whilst using a mobile phone is not acceptable and will not be tolerated in Cheshire and anyone who breaks the law will be dealt with robustly."