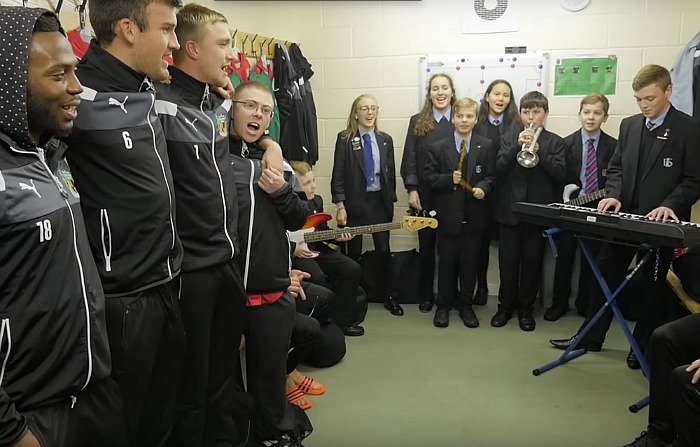 Brine Leas School pupils have struck the right chord with Nantwich Town players – by helping to produce the club's new music video.
The school's R&B band have recorded and performed the supporters' anthem "Glad all Over" as Nantwich Town's new soundtrack.
And club and school officials are delighted with the end result – a win for both sides!
Not many non-league clubs have produced their own club video, let alone doing it in partnership with a local school band.
But pupils were delighted to record, perform and then appear in the video along with the fans and players.
Nantwich Town were also helped by local production company Healheadover, run by Peter Ewan.
Tim Crighton, commercial director for Nantwich Town, said: "We were aware Brine Leas had a talented R&B band, and they loved the sound of the project.
"So much so, they agreed to learn and record the club anthem "Glad all Over", originally recorded by The Dave Clark Five in 1963.
"They then performed it in the video, along with the players!
"The end result is a fantastic example of a community driven club coming together and that is what the video captures.
"Supporters, volunteers, players and the local school appearing in what is a heart-warming and fun production."
Nantwich Town currently third in the Evo Stik Premier League, the 7th tier of English football, and pushing for promotion for the first time to the National League North.
They are hoping the video will help get the whole town behind them and singing "Glad all Over!"
Mr Crighton added: "I can't thank everyone involved in putting this first class video together enough!
"Peter Ewan, owner of local production company Healheadover, has spent hours filming and editing this piece and all for no cost to the club, which is hugely appreciated. I think he has done a great job!
"And of course thanks to the Brine Leas School music department and band itself for learning, recording and performing "Glad all Over"."