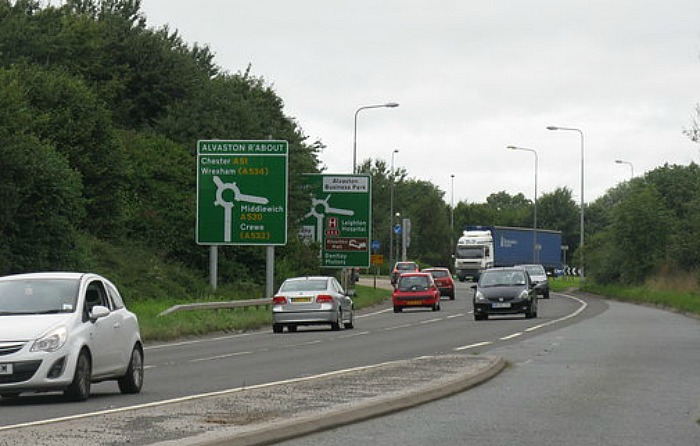 An authority's plan to cash-in on advertising space on Nantwich roundabouts could pose a danger to drivers, councillors have warned.
ANSA, Cheshire East Council's environmental services arm, wants to offer sponsorship signs on three roundabouts on major routes in and out of the town.
They are applying for permission to sell 'signage' space to sponsors on the London Road/Hospital Street roundabout, the Middlewich Road/Whitehouse Lane roundabout near Sainsbury's, and the Alvaston/Nantwich Bypass roundabout where the A530 and A51 meet.
If approved, it could see as many five advertising hoardings almost 6ft high being erected around each roundabout.
But town councillors today criticised the plans, warning that they could pose a dangerous distraction to motorists.
Cllr Arthur Moran said: "Anything that is on display on a roundabout is surely a distraction in itself. Instead of looking at traffic, people will be looking at what's on the signs!
"These signs are not small. It would not be so bad if there was just one or two, but these plans include four or five on each roundabout. I just wonder whether it's over the top."
Cllr Pam Kirkham agreed, adding: "My daughter crashed at a roundabout. These things will be a distraction."
Council clerk Ian Hope recommended the plans should be rejected, citing "demonstrable harm to the appearance to the street scene" and "demonstrable harm to highway safety".
It is also feared that it could trigger a rush of 'illegal' unauthorised signs being erected.
But Cllr Peter Groves, who also represents Nantwich South and Stapeley on Cheshire East Council, has backed the idea.
He said: "This is an opportunity for Cheshire East Council to generate much-needed funds.
"There will be very strict criteria on what these signs can show, so nothing inappropriate is being advertised.
"Many other authorities already allow this sort of advertising, and ANSA would bear in mind concerns over safety."
Town councillors voted 10 to 1 to object to the plans.
Cheshire East Council planning team will make a final decision on the proposals shortly.
(pic by M J Richardson under creative commons licence)