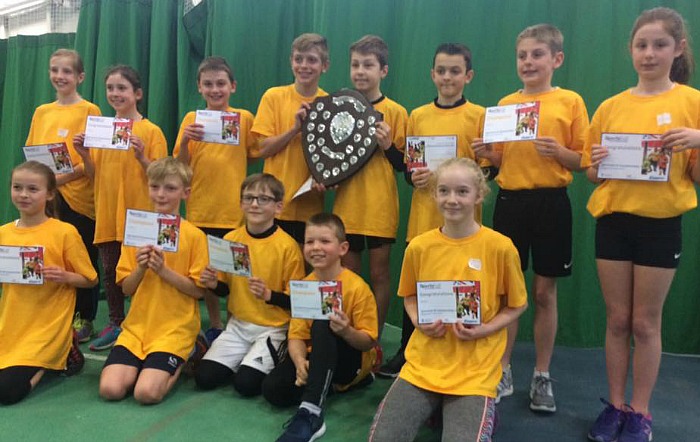 Young Crewe and Nantwich athletes were in top form when they scooped medals at two major indoor athletics events.
U11s and U13s boys and girls took on teams from across the North of England at the Tom Pink Relays in Sheffield and the North West regional sportshall finals at Sportcity, Manchester.
At the England Institute of Sport in Sheffield, Crewe and Nantwich took 52 athletes, and notched plenty of winners competing against nine other clubs.
They were winners in the U11 boys Keeping up with Paula continuous relay; U11 boys over and under relay; U13 girls Chasing Kelly continuous relay; U13 boys Chasing Mo continuous relay, a and the U13 boys 3x500m relay.
They also enjoyed success in field events, with U11 girls standing long jump won by Elizabeth Scott, the Caber won by Holly Clayton (equalling an event record), and weight for distance throw won by Odun Orungbemi.
In U11 boys, standing long jump was won by Andrew Salmon, highland steps won by Isaac Leydon (setting a new event record), Caber won by Adam Bownes and Daniel Knight (equalling the record), and soft javelin won by Thomas Stokes.
In the U13 boys, the highland steps was won by Henry Sandland, weight for distance by Oliver Doyle, and weight for height by Ben Verbickas.
There were also plenty of second and third places.
On Sunday, U11s athletes (pictured, above) competed in the North West regional sportshall final at the Manchester Regional Arena.
There were 13 Crewe and Nantwich athletes competing for Cheshire against teams from Merseyside, Greater Manchester, Lancashire and Cumbria.
And the U11 boys team won, with Isaac Leydon, Thomas Stokes, Ethan Pender, Kacper Mikulski, Andrew Salmon, Daniel Knight, Archie Varley and Alfie Carter starring.
The U11 girls came 3rd, with a team containing Elizabeth Scott, Florence Brazier, Eleanor Hunt, Lucie Bird and Lucy Salter.