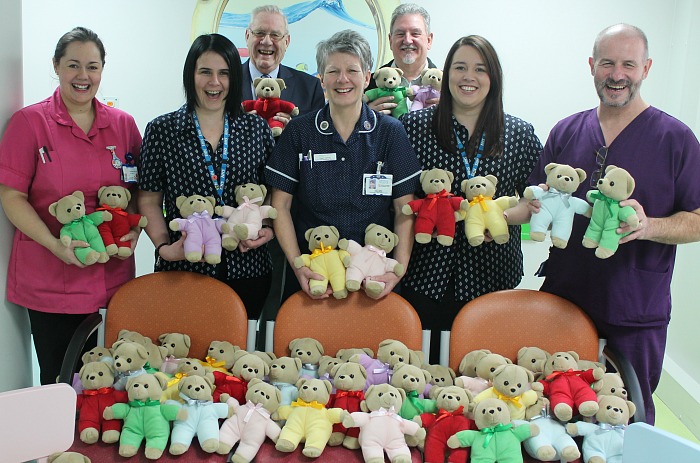 A charity that donates cuddly toys to distressed children at Leighton Hospital is celebrating a milestone.
Cheshire Freemasons launched their "Teddies for Loving Care" (TLC) scheme for Mid Cheshire Hospitals NHS Foundation Trust, which manages the hospital, 12 years ago.
Since then, more than 22,000 children have received free cuddly bears at the Trust's sites.
Money for the toys is raised by the Freemasons' volunteers who deliver them to A&E units across Cheshire.
Staff at Leighton Hospital's Emergency Department give teddies to children who are in distress and where it is felt a toy to cuddle can alleviate distress.
Jo Rimmer, service coordinator for A&E's reception, organises the delivery of the cuddly toys for the hospital.
She said: "The bears offer great comfort to our younger patients.
"Some are distributed in our minor injuries unit and they're used to reassure children by demonstrating treatments they may have, such as a sling or bandaging. The children get to take them home, too.
"They offer a positive distraction during what can be an unsettling time and we're so thankful to the Freemasons for their ongoing support."
Neil Eaton, TLC coordinator for Cheshire, added: "Children tend to form a bond with the teddy because of the circumstances in which they are received and will bring them back to hospital with them if they have to return."
Neil joined Freemason and volunteer Mike Bentley to deliver the latest batch of bears in February along with TLC colouring in sheets, which will be used to entertain and occupy those who use children's waiting area in A&E.
The delivery of 144 bears is just one of hundreds the Freemasons have made in Cheshire since 2004 and of the thousands that have been made across the country.
Together, 1.9 million bears have been distributed all over England, Ireland, Wales and parts of Scotland.
(Pic: Mike Bentley and Neil Eaton with members of staff from Leighton Hospital's Emergency Department)