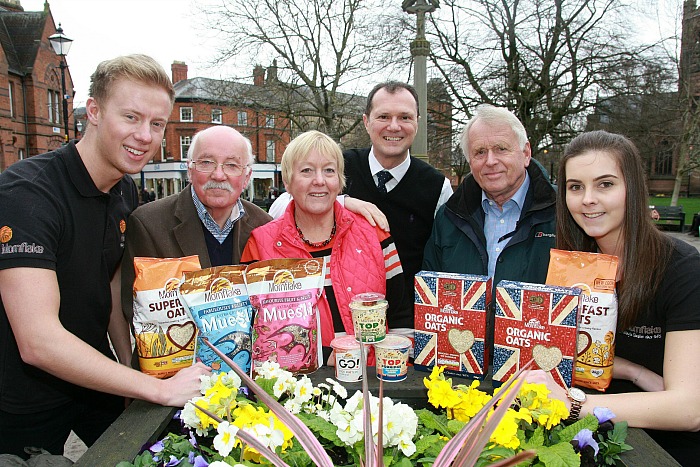 Mornflake is celebrating its 10th year as a major sponsor and exhibitor at the crowd-pulling Nantwich Food Festival.
The Crewe-based breakfast company will have a high profile at the event September 1-3, when it unveils the Mornflake Food Hall on the Bowling Green car-park.
More than 40,000 food fans visited the Food Hall last year as one of the many attractions at the free event.
This year will see a record 200 exhibitors filling the town centre with food, drink and craft stalls.
A cookery theatre will feature demonstrations by BBC Great British Bake Off winner Candice Brown.
The Mornflake Food Hall will be filled with delicacies from around the world.
The firm's vintage van will also be on Nantwich town square.
Mornflake marketing manager Richard Jones said: "As a South Cheshire company, we like to support high-profile events such as the Nantwich Show and the Nantwich Food Festival where we have a chance to meet local people who have enjoyed our products for decades.
"We were involved in the food festival from its inception back on Mill Island and its subsequent move into the town centre where it has become a huge event run by tireless volunteers.
"Once again this year we'll be encouraging visitors to eat healthily and tastily with our delicious and versatile products, not just at breakfast, but as a snack anytime of the day."
Dating back to 1675, Mornflake is a top-seller in 63 countries but remains true to its South Cheshire roots with its milling operation and headquarters in Crewe.
Festival director Christine Farrall said: "Mornflake plays an important role in the Nantwich Food Festival.
"It is an example of how a successful local family-run food business can help to promote our volunteer-led event with generous sponsorship.
"The Mornflake stand, with its eye-catching colourful displays, is always a draw to the thousands of visitors throughout the weekend.
"The staff are polite, helpful and I can never pass the stand without buying the muesli breakfast cereals.
"The company's support of the festival over many years has without doubt contributed to its growth and success.
"Costs of staging the event rise every year but Mornflake has remained loyal.
"It's a main sponsor and a great friend of this important local event which does so much to showcase Nantwich as a destination town."
For more on this year's festival visit www.nantwichfoodfestival.co.uk
(pic: Food Festival officials John Coulter, Roger Mills and Christine Farrell with Mornflake marketing manager Richard Jones and brand ambassadors Sophie Chandler and Joe Clarke)