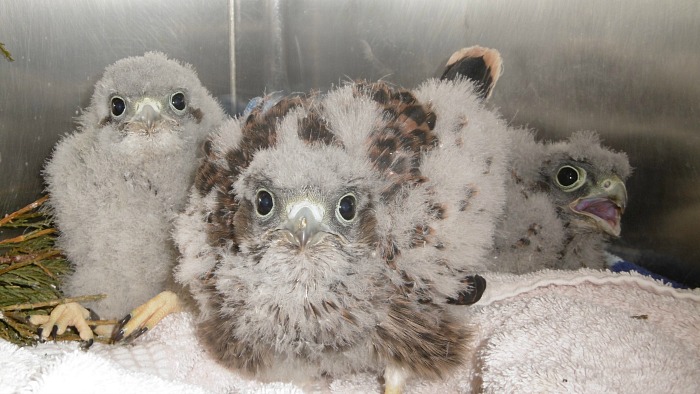 Three orphaned baby kestrels found helpless at the bottom of a tree are being cared back to full health at the RSPCA wildlife centre in Nantwich.
A member of the public found the birds – initially thinking they were owls – shaking and frightened in the grounds of a residential home in South Yorkshire.
They were collected by an RSPCA inspector and transferred to Stapeley Grange Wildlife Centre, on London Road.
As they had very few feathers when they were found, they were classed as nestlings – meaning they were too young to leave the nest and not likely to survive long.
But since arriving at Stapeley, the trio – just weeks old – have gone from strength to strength and it is hoped they will be successfully released back to the wild when they have gained more weight.
Lee Stewart, manager at Stapeley Grange, said: "We don't get orphaned kestrels very often so it has been incredible to watch them develop as each day passes.
"When they were found, they were all shaking, one of them still hadn't opened their eyes.
"But they are doing great and growing fast, even the smallest one is beginning to catch the other two up.
"They are currently being kept in isolation where they are weighed daily and fed four times a day.
"As soon as they are old enough they will be taken out to the main aviaries where they will be able to stretch their wings.
"They were very lucky to have been found when they were as they is no way they would have been able to survive on their own – at least now they have a fighting chance to return to the wild."
Click here for more information on what to do if you find a baby bird.
Stapeley Grange is holding its annual Summer Fair and Dog Show on Sunday July 2, to raise money for the wildlife centre and cattery.
The event will run from 10am to 4pm, and will include a bake-off, dog show, crafts, archery, tombola, food and entertainment.
Visitors will also have the chance to get their dog micro-chipped.
Entry is £2 for adults and £1 for pensioners and children. Children under five enter for free.
The cattery and wildlife garden will be open to the public and dogs are welcome but must be kept on leads.