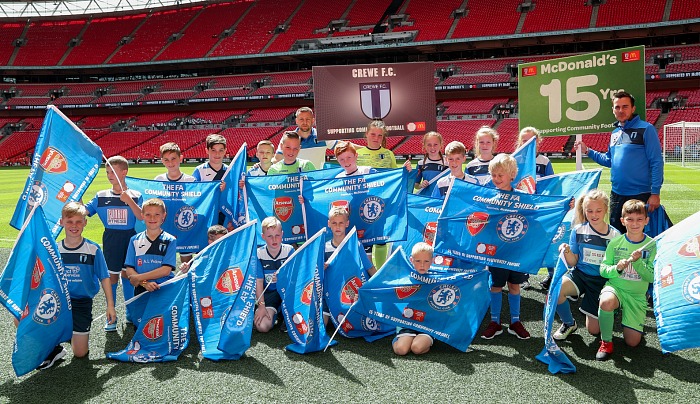 Young Crewe and Nantwich footballers saw their dreams come true when they walked out at a packed Wembley Stadium.
The Crewe FC players enjoyed a once-in-a-lifetime opportunity to take part as one of seven teams in the parade at The FA Community Shield 2017 game between Arsenal and Chelsea.
Players formed a guard of honour around the pitch at Wembley before Emirates FA Cup Winners Arsenal won 4-1 on penalties in front of over 83,000 fans.
Crewe FC secured their place on the pitch via local McDonald's franchisee Eddie Lelidowicz, who is a close supporter of the club as part of the McDonald's Club Twinning Programme.
The McDonald's Club Twinning Programme began in 2008 and has seen more than 1,000 grassroots clubs across the country twinned with McDonald's restaurants, through the company's Community Partnership with The FA.
Grassroots clubs across the UK which are twinned with their local McDonald's restaurants receive support through with kit and equipment, business advice and assistance with hosting community football events.
Steve Parker, Coach at Crewe FC, said: "We were extremely grateful to receive the chance to walk out at a sold-out Wembley Stadium.
"This opportunity comes around once-in-a-lifetime and the kids haven't stopped talking about it since – they're all still star struck from seeing their heroes up close!
"We want to extend our thanks to Eddie Lelidowicz as without him and his relationship with McDonald's, we wouldn't have opportunities like this.
"Eddie truly has been a fantastic help to the club and we look forward to working with him for years to come."
Eddie, a loyal supporter of grassroots football in the local area, said: "From working with Crewe FC, I can truly say they have deserved this opportunity to walk out on the Wembley turf.
"The continuous work that they do in the local community is extraordinary and the dedication they show day-to-day is inspiring.
"I am so glad that they enjoyed the experience."
For details on McDonald's involvement in grassroots football and to find out how your club could benefit, visit www.mcdonalds.co.uk/betterplay
(Photo: Jed Leicester for FA)