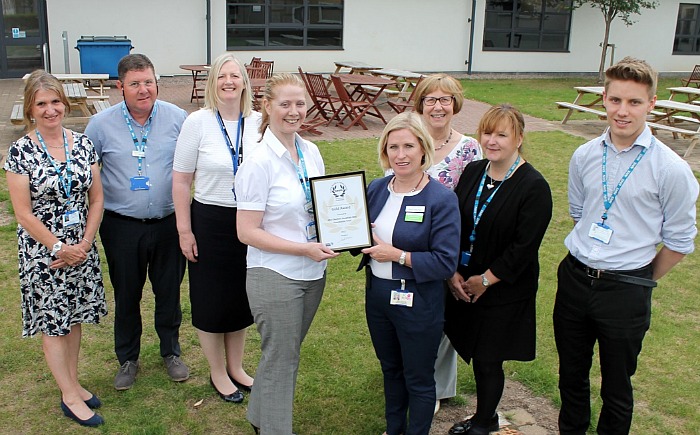 NHS trust staff who run Leighton Hospital have earned a national health and safety award.
Mid Cheshire Hospitals NHS Foundation Trust (MCHFT)achieved gold in this year's RoSPA Health and Safety Awards.
The event, run by the Royal Society for the Prevention of Accidents (RoSPA), is open to businesses and organisations across the UK and overseas.
It looks at entrants' occupational health and safety management systems, including leadership and workforce involvement.
And MCHFT, which entered the awards for the first time, scooped the highest accolade possible.
Wendy Astle-Rowe, health and safety lead at Mid Cheshire Hospitals, said: "Receiving the gold award is an incredible achievement and it is also great news for our staff and local community.
"This award shows our organisation has excellent health and safety management systems in place, we have a rigorous approach to occupational health and safety, and we have low levels of accidents and work-related ill health.
"We would like to thank all of our colleagues for helping to make Mid Cheshire Hospitals NHS Foundation Trust a safe place to work and for their contribution to this award."
Wendy was among employees presented with the award during a ceremony in Birmingham.
Julia Small, RoSPA's head of awards and events, said: "The RoSPA Awards are the most prestigious in the world of occupational health and safety, and held in high regard around the world.
"Winning one demonstrates an organisation's commitment to maintaining an excellent health and safety record. Achieving the standard required is no mean feat."
Earlier this year the Trust, in partnership with the University of Chester, won a Student Nursing Times Award for its work in supporting former nurses to return to practice.
In March, it also achieved the best results of all acute trusts in the national NHS Staff Survey.
(Pictured above: Estelle Carmichael (centre left) and Wendy Astle-Rowe (centre left), with the RoSPA Gold Award and other members of staff)
(Pictured, below: Collette Barker (left) and Wendy Astle-Rowe collect the RoSPA Gold Award during a ceremony in Birmingham)