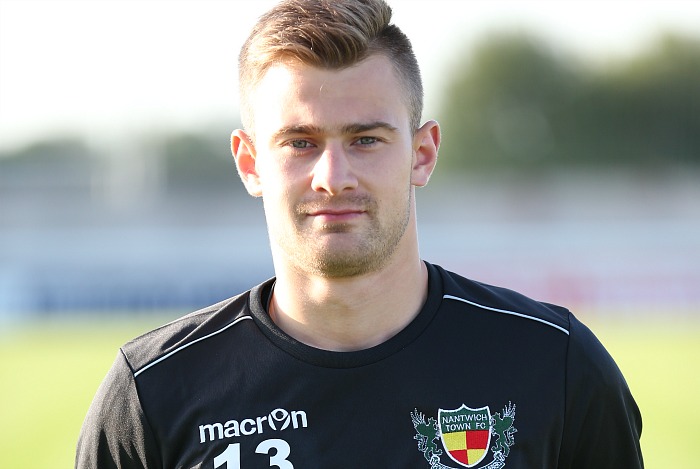 Nantwich Town got their 2017-18 campaign up and running with a deserved first victory of the season at home to Workington.
And they have keeper Krystian Burzynski (pictured), in for Fabian Spiess who dislocated his shoulder against Altrincham, to thank with a superb display.
The first 15 minutes of the game were even, Troy Bourne picked up a yellow card for catching his man late and on 20 minutes, and Matt Bell followed him into the book.
On 28 minutes, Burzynski made the first of many fine saves when he palmed away a shot from Workington's midfielder Calvert.
Nantwich enjoyed a good spell, with Bell shooting just wide on 30 minutes and then again a few minutes later.
Then on 38 minutes, a breakthrough for the Dabbers when Bell crossed into the Workington penalty area from a free kick and Harry Clayton powered a header past the Workington keeper.
A minute after the restart, Nantwich keeper Burzynski saved a header from Allison.
Then on 47 minutes, Nantwich doubled their lead.
Bell crossed into the box, the ball ran loose and Jordan Davies calmly side-footed into the net from 15 yards out.
Burzynski then produced another save on 57 minutes from a shot from Sam Smith.
Sean Cooke came on after a long injury lay off for Nantwich, replacing Troy Bourne on 67 minutes.
Burzynski was at it again with another fantastic save on 69 minutes, keeping the cushion to two goals.
As the clock ticked away, Workington made another substitution with Samuel Joel replacing Jack Ryan.
Anderson showed touches of class for Nantwich and provided a dangerous cross for the Dabbers that was headed out for a corner.
Centre backs Stair and Mullarkey marshalled the back line well and Workington were restricted to a few opportunities in the last 10 minutes.
And there was time for one more world class save from Burzynski with two minutes to go, tipping the ball around the post.
Cooke and his management team can be satisfied with four points from three tough opening games against Stalybridge, Altrincham and Workington.
Nantwich are away on Monday (August 21) against Stourbridge, who are unbeaten with two wins and a draw.
Nantwich Town – Burzynski, Bourne, Morgan, Stair, Mullarkey, Hall (C), Hughes, Forbes, Clayton, Bell, Davies (Subs Anderson, Webster, McDonald, Cooke, Jones)