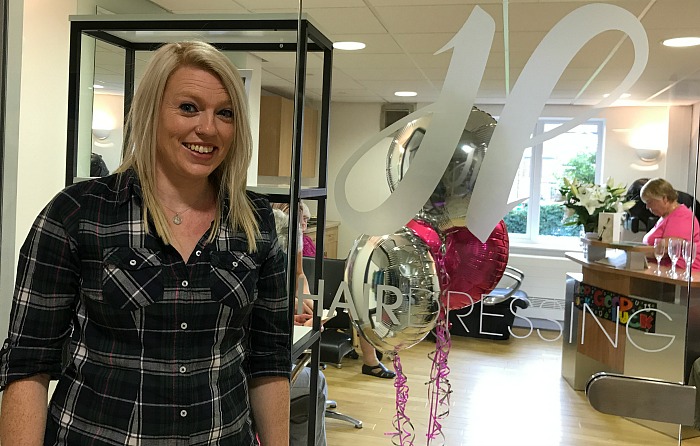 Mobile hairdresser Jo Puttnam is proving she can still cut it – by opening a new salon inside a Nantwich care village.
Jo has teamed up with Mill House on Queens Drive to breath new life into the salon for residents living on the site.
And after almost 25 years in the business, she is looking forward to a fresh challenge and a more perm-anent base!
Bosses at Mill House, which opened in 2008 and is run by the Guinness Partnership, hope the new salon will help open up the facility to the wider community.
Mum-of-two Jo, 40, from Crewe, said: "The area manager for Guinness mentioned the salon was vacant, and asked if I knew anyone who would be interested.
"When I took a look myself, I thought 'why not give it a go'.
"I've been a mobile hairdresser for 14 years which was excellent while the kids were growing up.
"But there's nothing like having your own salon – and I think customers like it better, too.
"Mill House seemed ideal as there is a captive audience already, and people from the community can also come in too."
So over the summer, former South Cheshire College student Jo has been busy painting and decorating to get the salon ship-shape ready for this week's launch.
And as well as regular clients based at Mill House, she hopes customers on her regular rounds in Crewe, Nantwich and Alsager will pay a visit.
Gary Bell, Mill House Extra Care Scheme manager, said re-launching the salon was a welcome boost to residents living in the 44 apartments on site.
"It's about involving the local community in what we do here. We are not a care home, and we want to open our doors to the community," he said.
"We also have a Bistro on site which others can use. It's about providing that little bit of extra support in a safe, friendly environment."
Jo, who trained at TPL Hairdressing in Nantwich while at college, will be opening her new JP Hairdressing salon Tuesday to Saturday 10am to 4pm initially.
Contact Jo on 01270 748060 for an appointment.