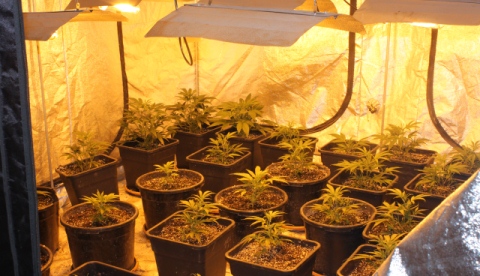 Cheshire Police are warning landlords to be cautious after officers unearthed a large Cannabis factory at a property in Crewe.
Police were called to reports of suspicious activity at an address on Walthall Street at the weekend.
And they entered, they discovered a large scale Cannabis factory, containing more than 80 plants at various stages of cultivation.
Det Con Paul Wright said: "Thanks to information received from a member of the public, we have able to remove a significant quantity of drugs from the streets of Crewe.
"This is a great result and it truly shows how information from members of the public is vital in the fight against drug related crime.
"We know the negative impact illegal drug use and supply can have on the community and we continue to do all we can to put a stop to this sort of activity."
Enquiries into the Walthall Street discovery are ongoing and no one has been arrested so far.
But police have confirmed the property was being rented.
Det Con Wright added: "It is estimated that the average cost for repairing a property used for Cannabis cultivation is in the region of £15,000 – which is why we would urge landlords to remain cautious.
"It's important to conduct regular checks at the addresses to ensure everything is in order.
"Also, if a potential new client comes to you and offers to pay six months' rent in advance in cash, then the probability is that it's too good to be true – and it may end up costing you more in the long run."
Signs that could indicate a property being used as a Cannabis farm include:
Strong and sickly sweet smell
Equipment like lighting and ventilation being taken inside.
Permanently covered or blocked-off windows with curtains, black-out blinds or foil coverings.
People arriving at all hours or neighbours you never see.
Strong and constant lighting day and night.
High levels of heat and condensation.
Constant buzz of ventilation.
Lots of power cables.
Anyone with information in relation to the discovery should contact Cheshire Police on 101 quoting incident number 898 of 24/9/2017.
Information can also be reported anonymously via Crimestoppers on 0800 555 111.
(Pic: Display purposes only, not related to Walthall Street case)