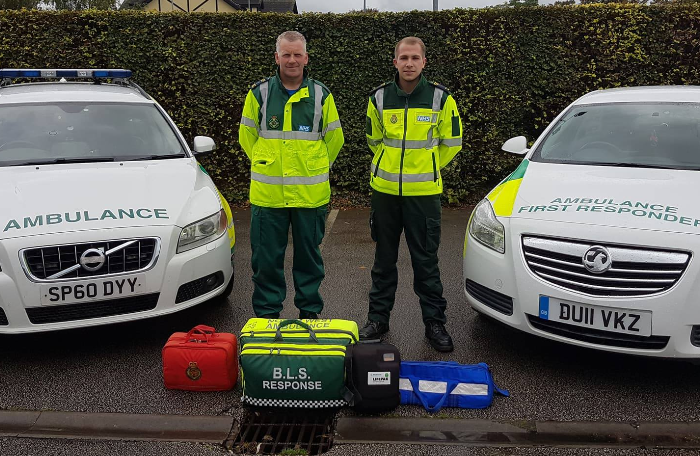 Nantwich's two Ambulance First Responders have been shortlisted in the national 2017 Community Hero awards.
Gavin Palin and Max Kelly were stunned when they discovered they had been nominated for the award.
The pair, who have raced to the aid of hundreds of people often first on the scene of an incident, believe they were nominated by someone from one of the community talks they give to local groups and organisations.
Now the public get to cast their vote on who should win the Community Hero 2017 title, which is run by The Giving Machine.
Gavin has been a volunteer First Responder for 16 years and Max joined him five years ago.
They work on behalf of the North West Ambulance Service NHS Trust, and are often first at the scene of an accident or when someone is taken poorly or is injured suddenly.
The Responders are sponsored by Car Transplants, Nantwich Town Council and donations from the local community.
They told Nantwichnews: "We are extremely grateful to the people who have nominated us for this award.
"It just shows what a great community spirit our people of Nantwich and surrounding areas have."
The person nominating Gavin and Max wrote: "Gavin & Max are Ambulance First Responders who give up their time on a voluntary basis to attend those in need of medical assistance.
"Based in Nantwich, they attend incidents not only within the town, but in the surrounding rural areas, allowing ambulance-standard assistance to arrive more quickly in harder-to-reach areas.
"In addition, they give tirelessly of their time to talk to community groups about the importance of summoning assistance from the ambulance service, demonstrating how to make use of defibrillators and to give CPR.
"All of this is done with good will, humour and entirely free of charge.
"Emergency medical assistance has been provided rapidly and professionally to countless people taken ill or involved in accidents, sometimes involving very extreme trauma.
"By talking to community groups in a humorous and matter of fact way, Gavin and Max have taken the fear away from contacting the ambulance service and have also enabled countless people in the local community to be able to take control and give useful assistance in the case of illness and emergency.
"They are particularly good at encouraging the older generation not to hold back from contacting the ambulance service is something such as breathlessness, weakness or pain which is unusual for them or their relatives/friends and this means that lives have undoubtedly been saved and the effects of illness considerably reduced."
You can vote for Gavin and Max by clicking on the Community Heroes 2017 picture and type #gavinandmax #TGMheros in the comment bar of The Giving Machine's original status.