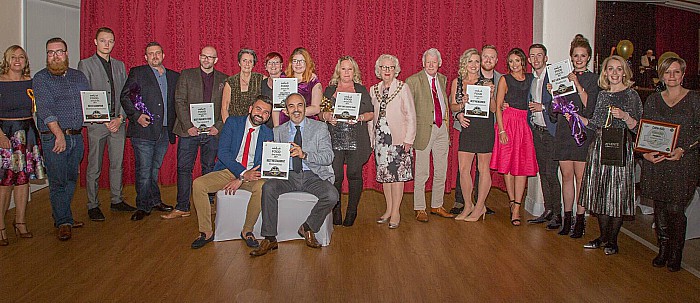 Nantwich's top food outlets were celebrated at the Nantwich Food Awards at the town's Civic Hall.
Local food and drink lovers voted online in their thousands to select the best eateries, speciality producers and customer service champions.
The awards recognise businesses that promote South Cheshire and follows the annual Food Festival that brings over 40,000 visitors to Nantwich every September.
There was live music from Callum Wright & Stephen Robinson and Charmaine Baines and her band, Matrix Club Matrix.
A buffet was produced by award-winning South Cheshire College Academy Restaurant, while Rodney Densem Wines supplied champagne for category winners.
Concorde Trophies provided awards, and McCarthy's Salon offered additional prizes.
Awards organiser Nanna Pedley said: "The Nantwich Food Festival and Nantwich Food Awards go from strength to strength, but they are only possible with the ongoing contribution from hundreds of volunteers and generous local businesses.
"The awards ceremony recognises the outstanding contribution made by the excellent food and drink businesses in the area, but it's also a way to thank everyone who has been involved in staging the showcase events, including the outstanding group of volunteers.
"Holding the evening at the Nantwich Civic Hall this year makes it extra special as it's such an important venue at the heart of the historic town."
Attending were The Lord-Lieutenant of Cheshire, David Briggs, M.B.E., K.St.J., Mayor of Cheshire East Cllr Arthur Moran, Mayor of Nantwich Cllr Penny Butterill, MP for Crewe and Nantwich Laura Smith, and President of South Cheshire Chamber of Commerce & Industry, John Dunning.
The seven category winners were:
Best Restaurant (including Hotel Restaurants): Romazzino
Best Pub with Food: The Leopard
Best Café or Coffee Shop: Ginger & Pickles
Beer Champion: Beer Dock, Nantwich
Best Newcomer: Deadwood Smokehouse
Best Local Producer: Snugburys
Excellence in Customer Service: Nantwich Bookshop & Coffee Lounge
There were additional awards for people who took part in competitions at the Food Festival in September.
A special presentation was made to Roger Mills who has stepped down from his position as a Director.
To celebrate his long-standing association with the festival, and to acknowledge his never-ending hard work, he was given the honorary position of President.
Festival Directors Chris Farrall and John Coulter said: "Roger has given so much over the years to help the festival become the success it now is.
"He is known throughout Nantwich as someone who is prepared to give his time and knowledge to help others.
"Running the annual festival is an ongoing commitment across twelve months of the year, so it's right that he enjoys time to pursue other interests.
"We know that Roger will always be available to offer advice and support when needed."
Further details about the food awards, the annual food festival and how to get involved can be found at www.nantwichfoodfestival.co.uk
(Pic by Nantwich Events Photography)