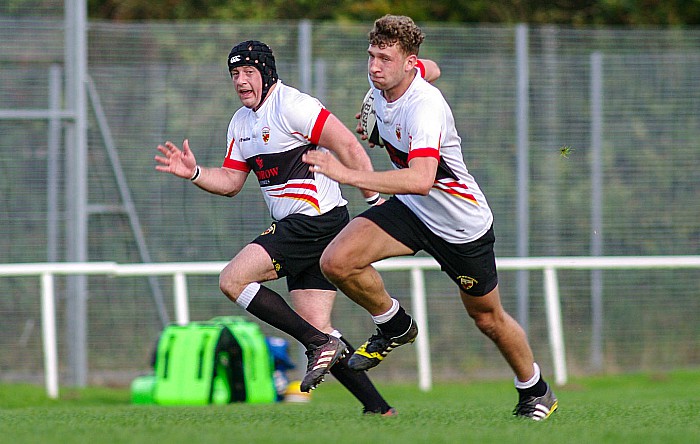 Crewe & Nantwich maintained early season promotion form with a fine 12-51 away win at Newcastle (Staffs) RUFC.
It cemented their second spot in Midlands 2 West (North) Division.
The game was less than five minutes old when Crewe prop forward Ricky Evans capitalised on a messy line out, five metres out to charge over the Newcastle try line to put Crewe 5–0 up.
Jim Creighton missed with his conversion kick.
Crewe looked the hungrier side as they formed attack after attack.
Prop forward Chris Sproston and second row pairing Travis Mitchell and Joe Telfer made breaks and ran the hard yards into the Newcastle 22m area.
And it was man of the match Telfer who scored Crewe's second try after 15 minutes when he made a short burst out of a rolling maul in the corner to touch down much to the visiting fans delight.
His effort was converted by Creighton to extend the lead to 12–0.
The visitors extended their lead to 15–0 on 35 minutes when Creighton slotted home a 25m penalty.
The hosts to their credit rallied to score a try in the corner which was converted to make it 7–15 at the break.
The score flattered the home team after Crewe made a number of errors when in good scoring positions.
But any ambitions of a comeback for Newcastle were dented five minutes into the second half.
Creighton sent a cheeky chip over the defensive line and ran through to collect and off load it to Ali Lang who showed Newcastle players a clean pair of heels to cross the line for their third try of the afternoon, converted to make it 22–7 for Crewe.
The hosts forced another error from Crewe, when a kick out of defence was charged down and the Newcastle backs combined to score a second try, for 12–22.
This seemed to spur the visitors on and Crewe produced wave after wave of attacks into the Newcastle half.
Crewe scored a stunning try with 55 minutes on the clock, when they won a line-out on the right.
The ball was passed through the hands of all of the backs for Toby Russell-Vick to touch down in the corner, converted by Creighton for 12–29.
Crewe were in the ascendancy and to rub salt into their hosts wounds, Creighton slotted home another penalty kick to make it 12–32.
Soon after, winger Josh McShane broke through a tiring Newcastle defence to score Crewe's fifth try, which Creighton converted 12–39 to Crewe.
In the final five minutes, Crewe were relentless as the ball was passed through hands of forwards and backs for skipper Toby Russell-Vick to score in the corner, which was converted by Creighton for 12–46.
From the restart, Crewe received the kick and went on a final counter attack with the team moving in unison deep into the Newcastle half.
Full back George Colebourne broke through the home team's floundering defence to score Crewe's seventh try to wrap up a convincing victory.
Crewe head coach Peter Allen said: "From our perspective, it was a tale of two halves in terms of quality of our performance.
"In the first half we created chance after chance but frustratingly, we didn't capitalise from our dominance due to poor decision making and handling errors.
"Second half we managed to sort those aspects out and scored 39 points and we could and should have scored a similar amount of points in that first half.
"Still, this is another bonus point win and we have a cup game next week before returning to league action the week after at home and in good shape."
Next Saturday (November 18), Crewe & Nantwich RUFC face a tricky tie away at Droitwich RFC in the 4th Round of the RFU Intermediate Cup.
(pic by James Brewerton)