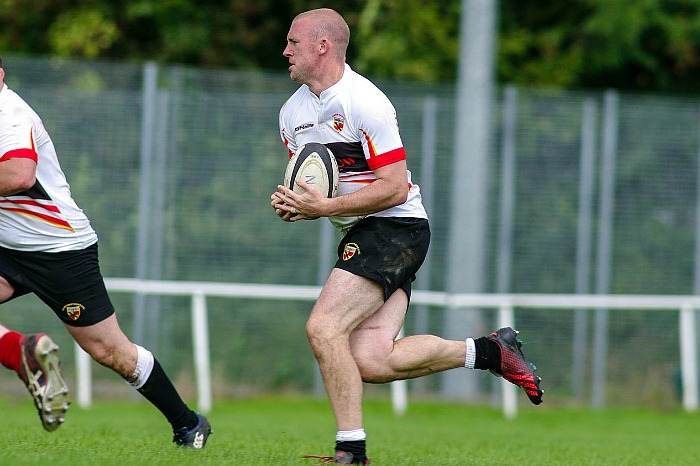 Crewe & Nantwich RUFC's interest in the RFU Intermediate Cup came to an end when they crashed out by losing 34 -10 at Droitwich RFC, writes Gwil Roberts.
Crewe travelled to Worcestershire expecting a tough game, with Droitwich currently top of their league.
Their only defeat so far this season was in another cup competition.
Crewe were also on a winning run of five league wins so they came to the game in confident mood.
The home team started the game in a flurry as they set about attacking their visitors with pace and aggression.
Crewe found it difficult to adapt before the home team winger crashed over to score their opening try in the corner which was also converted 7-0 Droitwich.
From the restart, Crewe tried to get out of their half with forwards Elliot Alston, Chris Sproston and Travis Mitchell carrying ball in hand only to be swamped time and time again by the home defence.
From the breakdown, another surge from the Droitwich backs led to another try under the posts due to a succession of missed tackles by Crewe players.
Again from the restart, Crewe tried to sustain possession and territory to get a foothold in the game.
But once again the home team thwarted their efforts and counter attacked.
A ruck short of the Crewe 22 meter line saw the ball was pop out to the Droitwich number ten, who fired a drop goal over to extend their lead to 17–0.
Crewe heads never dropped and they attacked inside the Droitwich half.
From sustained pressure, they were awarded a penalty which Jim Creighton slotted home for 17-3.
Then Crewe lost possession and the ball found its way across the pitch for the Droitwich winger to score their third try which went unconverted, for a 22-3 lead at half-time.
Crewe started the second half much better, and they attacked Droitwich with more menace and purpose.
However, the hosts' defence remained strong and and following a Crewe handling error, Droitwich's backs pounced.
From a counter-attack down one wing, a cross field kick to the other flank found the winger who gathered the ball and crashed over to score against the run of play.
The conversion made it 29–3, snuffing out any hopes of a Crewe & Nantwich fightback.
Every Crewe player was determined to salvage some pride and their efforts were rewarded after 65 minutes.
A succession of rucks led to the ball being passed through hands from one side of the pitch to the other.
Winger Elliott Meredith scored a well worked try in the corner which was converted by Creighton, for 29-10.
The visitors made some changes and gave a 1st team debut to Harry Price, who has worked his way up through the 4th, 3rd and 2nd teams.
As the game drew to its close and Crewe still causing the home team more problems, Droitwich managed to score another break away try against the run of play to crown their afternoon and make it a final score of 34-10.
Crewe Head Coach Peter Allen said: "As a game, we made it very difficult for ourselves with our performance in the first quarter.
"To be fair, I genuinely thought for long periods of the second half we were the better team.
"But to their credit, Droitwich had made it really tough for us by coming out of the blocks far sharper, and they looked like they wanted it more in the first half.
"From then we didn't really get a foothold strong enough to get back in the game.
"Our sole focus now is the league.
"We are on a five-game winning run and in one of the promotion places.
"The best way to get over this defeat is to extend that to six wins on Saturday at home."
Crewe & Nantwich RUFC 1st XV entertain Old Salatians RUFC at the Vagrants on Saturday November 25, 2.15pm kick off.
(Photo courtesy of James Brewerton)