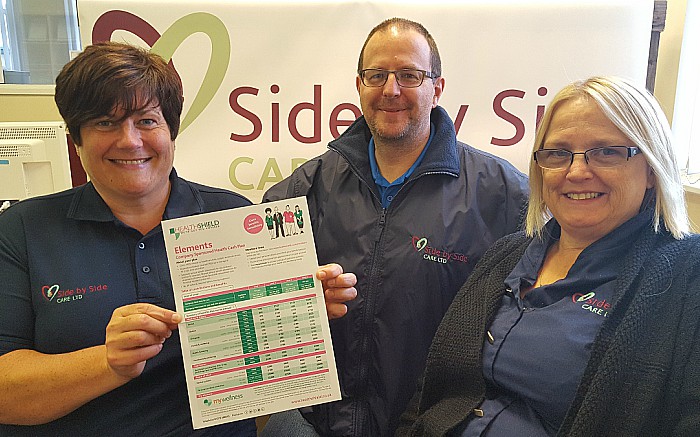 A Nantwich care firm has teamed up with an award-winning Crewe company to provide health benefits for its workers.
Side by Side Care, based at the Barony Business Park, provides home-based care to clients across Cheshire.
The company has grown quickly and staff numbers have trebled in 12 months.
Company director Neil Smith started life as an apprentice at Crewe Works in the 1980s and remembers the health care plans he and other workers enjoyed while working in the industry.
So now he has brought in health care plan organisation Health Shield to benefit his staff.
Health Shield, based on Electra Way, was originally formed to serve railway workers back in 1877.
Neil said: "Giving people access to good healthcare is vital and removing some of the worry about paying for treatment is a huge bonus.
"When I worked for the railway it was great knowing that check-ups, eye tests and dental work would be covered, and that you had no sudden bills to pay.
"As Health Shield has its origins in Crewe and I used their services as an apprentice, it was the obvious choice as we looked at companies who could support our growing team with their everyday health care costs.
"We believe in having a partnership with our staff, offering genuine support and peace of mind in their personal life.
"It gives a healthy work-life balance."
Health Shield CEO Jonathan Burton added: "A returning customer is a huge compliment to the service we provide.
"We are absolutely delighted Neil enjoyed such a good experience of Health Shield during his apprenticeship days the thought of us first.
"We pride ourselves on making health and wellness support more accessible to an ever-increasing number of companies, whilst staying true to our roots, recruiting locally and supporting the region.
"Neil's endorsement is testament to this."
Side by Side Care is currently expanding and recruiting experienced Care Givers to support clients around Crewe and Nantwich.
For details visit www.sidebysidecare.com