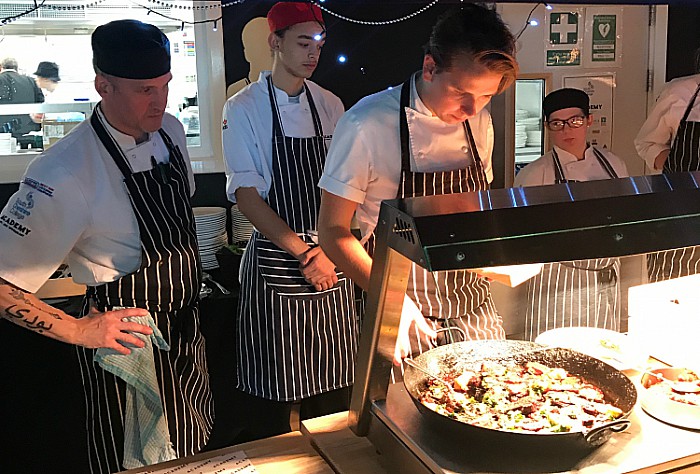 Two celebrity chefs popped in to Cheshire College South & West's award-winning restaurant, The Academy, to run special masterclasses for students.
Luke Thomas and Damien Wager tickled the tastebuds of budding chefs with demonstrations in street food and pastry at the Crewe campus.
They spent time with students demonstrating new techniques, skills and concepts to help further their careers in the world of high-quality cuisine.
Shane Guildford, chef/lecturer at Cheshire College South & West, said: "Our Academy restaurant has had an incredible year, having won the AA College Restaurant of the Year 2017.
"Now to have the expertise of both Luke and Damien available to us is really exciting and valuable.
"The students are very receptive and have thoroughly enjoyed being involved in the Gourmet Evenings and skills kitchen.
"Luke has worked with our students for some time and most recently visited the college for a street style day serving Bao buns in The Academy's festival style gazebo.
"Damien has been involved with our Gourmet Evenings and will be working with us more in the future."
The Academy restaurant is a training restaurant based on the ground floor of the college's campus, featuring a modern and innovative twist on Manchester's famous Northern Quarter.
Damien Wager said: "It's been a real privilege to work with the students and to see them grow.
"I'm always keen to encourage students by getting hands on as it's truly the best way to learn.
"I certainly appreciated having mentors around me throughout my career.
"Having built an ambassador deal with Forest Produce, a specialist ingredient supplier, this allows me to continue to grow and enhance my own abilities through their support.
"I'm passionate about teaching and enjoy helping others to reach their full potential.
"The students are really enthusiastic and it's always exciting to see young talent coming through.
"We plan to brand up a skills kitchen in the New Year so I'll be a regular visitor to the college and will be working with the students to elevate their pastry skills whatever their current level."
Damien was named the youngest Head Chef in the South West at a 4-star or higher rated hotel.
He has also featured as Pastry Chef of the month for the Staff Canteen, and numerous publications for his exploits.
Shane added: "We are immensely grateful to Damien and Luke for their support, knowledge and experience.
"Thanks to both these chefs, our students are gaining fantastic exposure and the practical experience needed to enhance their careers."
Anyone interested in hospitality and catering courses at Cheshire College South & West, visit scc.ac.uk or call the college hotline on 01270 654654.