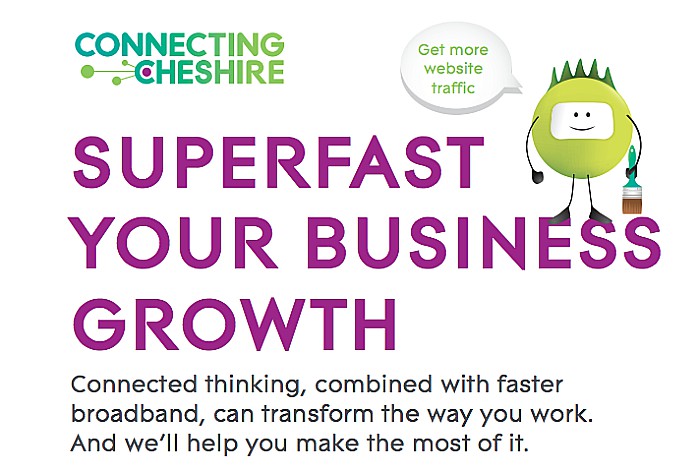 Businesses in South Cheshire connecting to Superfast broadband can tap in to free digital seminars.
Connecting Cheshire is launching its latest business support package – Digital+ – available to businesses across Cheshire and Warrington.
The ERDF-funded programme is designed to equip businesses with up-to-date knowledge and financial help for those upgrading to Superfast broadband connection.
It will be delivered in Nantwich, Chester and Warrington, through face-to-face free seminars and business support.
The programme will include:
• Working more efficiently and profitably
• Reducing IT costs with cloud computing
• Increasing leads and sales through marketing and social media
• Reducing admin and improving service through e-commerce platforms
• Using artificial intelligence as a key business tool
• Being business-ready for new online tax and GDPR rules
Thrive Creative, a brand and communication agency in South Cheshire, has been awarded a 2-year contract to deliver creative services.
Dave Powell, managing and creative director at Thrive, said: "We're delighted to be working
with Connecting Cheshire, and excited to be developing the Digital+ brand.
"For ambitious organisations looking to grow, or start-ups who want to get the most from digital, this is a great initiative which offers measurable benefits – something we are keen to communicate through the Digital+ strategy."
The appointment follows a series of pitches for the agency in 2017, which has a client roster including Iceland Foods, Manchester Metropolitan University and UHY Hacker Young.