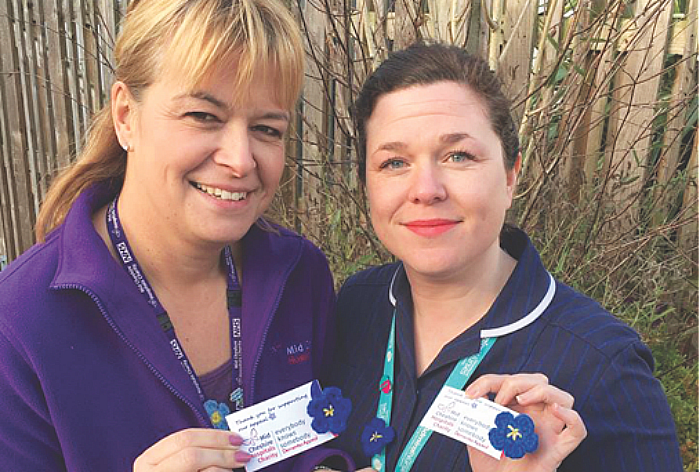 Mid Cheshire Hospitals Charity is calling on residents to get crafty by supporting the 'Everybody Knows Somebody' Dementia Appeal with Forget-Me-Not Flower pins.
It is appealing to keen crafters of all ages to make the flowers in blue wool with yellow centres, which can be crocheted or knitted in minutes.
The charity will sell them for people to wear to show their support for those affected by dementia.
They hope schools, community groups and others will be keen to use their 'crafty' skills to get involved and show their support for the charity's latest appeal.
Carole Salmon, community fundraiser at Mid Cheshire Hospitals Charity, said: "We want the community to get crafty by just taking a few minutes to knit or crochet our 'Forget-Me-Not' pins in support of our 'Everybody Knows Somebody' Dementia Appeal.
"We've had a great response already on our Facebook page – thank you to everyone who has been crafting away.
"It's a great opportunity for anyone of any age to get involved.
"So many people are affected by Dementia and we want to raise awareness and money to make Dementia-friendly improvements.
"If you can't knit or crochet, then it's an easy project to start to learn a new skill.
"And of course, people can also help by buying and wearing a pin, with all of the proceeds going directly to the appeal.
"We'd love for schools and community groups to get involved as well."
Pins will be sold for a minimum donation of £1 and are available from the charity office at Leighton Hospital during office hours (9am-5pm).
All monies donated will go towards helping make dementia-friendly improvements within the Mid Cheshire Hospitals Trust, enhancing the care provided to patients with Dementia and other cognitive impairments.
Patterns are available by emailing Mid Cheshire Hospitals Charity on [email protected], calling them on 01270 273248, or by messaging them on the 'mchcharity' Facebook page.
(Pic: Carole Salmon, left, and Sheridan Coker, nurse at MCHT)