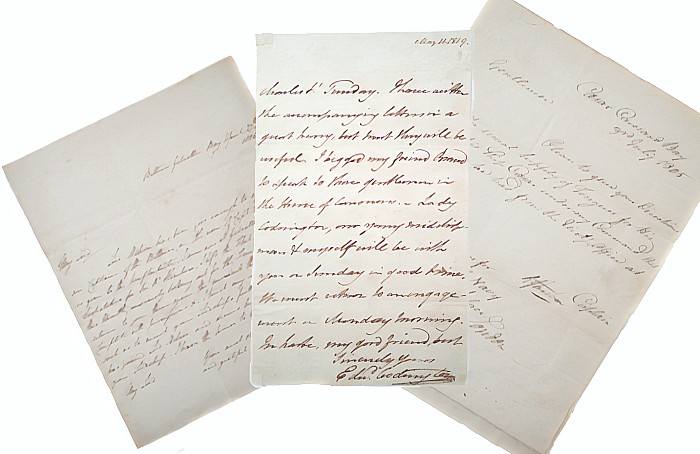 Collectors of memorabilia related to British naval hero Admiral Lord Nelson, will be setting a course for a sale at Nantwich on February 15.
The Peter Wilson auction house sale will feature a rare group of autograph letters from Nelson's fellow captains, all written between 1804, the year before the historic Battle of Trafalgar and 1819.
By then Nelson had been memorialised by Lord Byron, whose poem 'Don Juan' described him as 'Britannia's god of war' and monuments to his memory were being constructed around the country.
One letter from Admiral Sir Robert Calder (1745 -1818) dated January 2nd 1813, to Mr Philip Miller instructs Miller to 'act as Master of the Pyrenees until further hour'.
Calder commanded a fleet of 15 vessels and engaged a larger combined fleet of 20 French and Spanish ships on July 22nd 1805 at the Battle of Cape
Finisterre capturing two Spanish ships before fog and nightfall caused his withdrawal.
The letter is estimated at £150-250.
Other letters include from Admiral Sir Richard King (1774 -1834) dated February 25th 1809 from H.M.S. Achille, to Admiral Duckworth valued at up to £300.
And another from Sir Henry William Bayntun (1766-1840), who commanded H M Leviathan, dated 22nd July 1804. He was awarded the Gold Trafalgar medal and Sword of Honour. The single sheet is estimated at £100-150.
A letter from Sir John Louis (1785-1863) dated 27th April 1805, to Henry Dundas 1st Lord of the Admiralty is estimated at £100-150.
Admiral Sir Richard Strachan (1760 -1828) is represented by a letter dated 3rd July 1805, to the commissioners for His Majesty's Navy Somerset Place ordering 'The usual supply of Tongues for His Majesty's Ship Caesar under my command'.
The unfolded single sheet letter is estimated at £100-200.
Others are from Admiral Sir Edward Codrington (1170-1851) who commanded H.M.S. Orion at Trafalgar (estimate £80-120); Captain W. Brown (1777-1857) who commanded the Ajax at the Battle of Cape Finisterre (£100-200); and Vice-Admiral Sir Henry Blackwood who commanded the Frigate Euryalus at Trafalgar (£200-300).
Also in the sale is a portrait of Nelson by Glossop artist Ronald Fountain, together with a metal bust of Nelson.
There is a Royal Doulton stoneware jug commemorating him and his captains, and an unusual pearlware jug, circa 1805, finely painted rather than printed with a detailed plan of the Battle of Trafalgar.
There is a portrait of Nelson and a full list of the ships involved at the battle and another dating from 1800-1815 relating to the Bonaparte Peninsular war/Waterloo printed with a cartoon depicting Napoleon Bonaparte hanging from gallows whilst a figure sets light to powder kegs beneath him are also likely to draw strong bids from collectors.
The Peter Wilson sale is on view on Sunday February 11 from 2-4pm, Monday February 12 10am-5pm; Tuesday February 13 10am-5pm and Wednesday February 14, 10am-4pm.