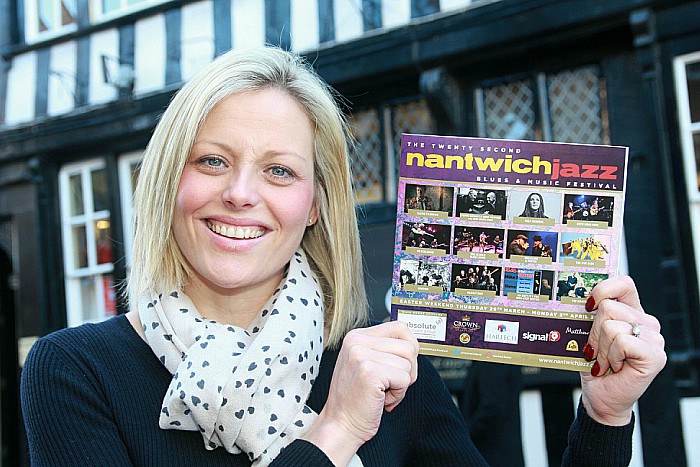 Nantwich Jazz, Blues and Music Festival is set to be a star-studded event with a record number of performers lined-up to entertain this Easter.
Festival programmes are now available online and at local outlets listing all the famous names whose stage skills will turn Nantwich into a mecca for music-lovers over Bank Holiday weekend, March 29 to April 2.
More than 150 solo performers and bands will make the festival, now in its 22nd year.
And it's all organisers could hope for in memory of its founder Phillip Martin, proprietor of The Crown Hotel, who died last November.
Headliners include Glenn Tilbrook from Squeeze, hit-makers Dr Feelgood and Climax Blues Band celebrating their 50th year in show business.
Mr Martin's daughter Abbigail, who has taken over as festival director, said: "Dad booked the headline acts before he passed away but taking over from there was a hard act to follow.
"There's a huge amount of work that goes into planning an event of this scale but I think he will be proud of the line-up.
"It's thanks to Dad that we have this incredible interest from high-calibre bands.
"After 22 years, the festival reputation is held in such high regard, they contact us hoping to take part.
"It means we have the pick of some of the best musical talent the country has to offer."
Squeeze frontman Glenn will get things underway on Thursday, March 29 with in a solo performance with support from Dennis Greaves & Mark Feltham of Nine Below Zero at Nantwich Civic Hall.
Friday sees two local artistes perform with indie-folk songstress Thea Gilmore at The Civic and a special performance by Both Sides Now at The Crown Hotel who present a homage to the Joni Mitchell Songbook.
There's a triple bill of blues at The Civic on the Saturday with the Climax Blues Band, Dr Feelgood and Walklate and Fuschi.
Weekend highlights also include high-energy performances by festival favourites Vavoom and Jive Aces.
Most pubs, bars and restaurants across town will host live performances including Harrisons on High Street, The Studio on Castle Street and Cheshire Cat, Firenze, Nakatcha and Street on Welsh Row.
Venues also include The Red Cow, The White Horse, The Malbank, The Talbot, The Bowling Green and Residence Restaurant and Bar.
New for 2018 is Local Live Music, showcasing up and coming musicians of all ages on the town square.
Hosted by The Cat FM, they will fill the town with music on Easter Sunday.
Musicians are invited to apply now for their 15 minutes slot.
The Bank Stage also returns to its spot on Bowers Row carpark giving a full line-up of open air performances on Saturday and Sunday.
Festival co-organiser Steve Barnes said: "Tickets to the major shows are selling well to music-lovers across the North West and well into the Midlands.
"Everything bodes well for a record-breaking event which will be a fitting testament to Phillip."
Paying tribute to Mr Martin in the brochure, Steve added: "When Phillip came up with the idea of a festival back in 1996, people said 'You want to do what' and thought it would never work.
"Here we are 22 years later with more than 40,000 people visiting each year showcasing all the town has to offer.
"And this year there's a bigger line-up than ever before offering festival fans the pick of the country's best musical talent."
Pub performances are free but a wristband is needed to enter.
They are on sale now via the festival website for £7 giving access to 140 gigs round the town.
For a full round-up of all the performances, pick up a brochure in local outlets or visit www.nantwichjazz.com