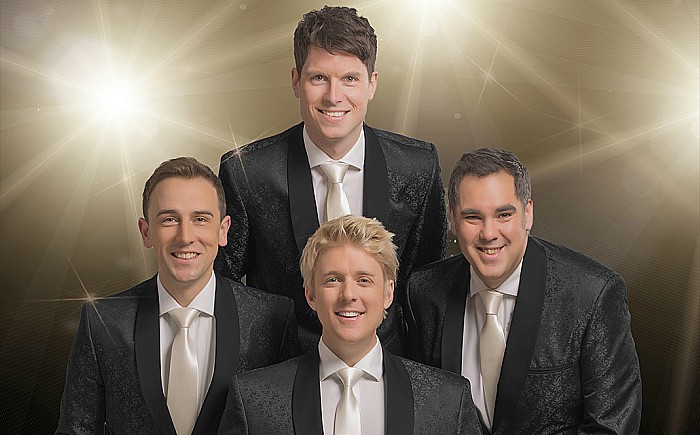 Multi-platinum selling vocal harmony group G4 are to play Crewe Lyceum Theatre on March 6.
G4 exploded onto the scene in 2004 on the first series of the X-Factor.
And they continue to blow people away with their style and harmonic vocals, which are incomparable to any other.
They made their debut in Asia, and after countless UK tours, they have more tour dates than ever in 2018.
Their classic hits include Bohemian Rhapsody, My Way, Nessun Dorma and Creep, and tracks from their latest G4 Love Songs album.
VIP tickets, available at all venues, include a pre-show Meet & Greet, including private performance at 6pm.
G4 set an exciting trend by bringing classical music to British reality TV screens for the first time in 2004 with their performance of Nessun Dorma.
However, it was their cover of Bohemian Rhapsody that became their signature tune, storming the charts in 2005.
Their debut album went straight to No.1, selling more than 245,000 in the first week, making it the fastest-selling album of the year.
G4 then released three albums, selling more than two million copies in the UK.
They also released a "Live at The Royal Albert Hall" DVD, an autobiographical book "G4: Our Way" and completed five sell-out tours across the UK and Ireland, including a Cathedral Tour where they sang acoustically.
Other G4 highlights included collaborating with Lesley Garrett, Robin Gibb, Stephen Gately and Sir Cliff Richard, performing in the The Royal Albert Hall more than a dozen times, and having the roller-coaster ride G-Force named after them, which they opened at Drayton Manor Theme Park.
G4 members are Jonathan Ansell, Ben Thapa, Mike Christie and Nick Ashby.
Follow them on www.twitter.com/G4Official (@G4Official) and www.facebook.com/G4OfficialMusic