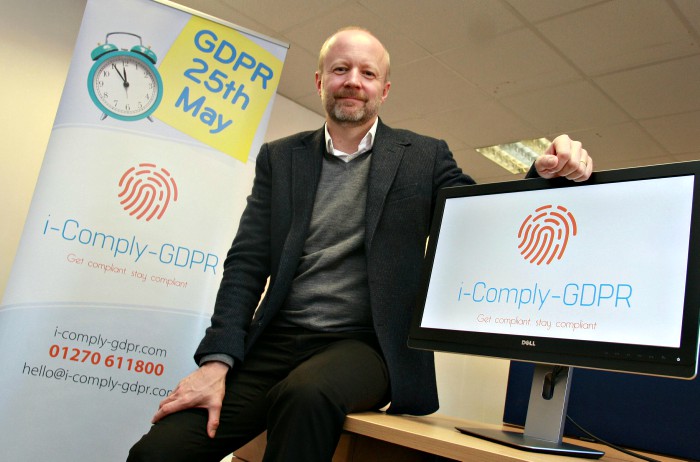 Engineers at a Nantwich software company have pioneered a new tool to keep British businesses on the right side EU data protection law.
Point Progress, on Hospital Street, has received a deluge of inquiries about the product designed to help companies comply with the General Data Protection Regulation (GDPR).
This legislation, which comes into force on May 25, will place responsibility on the shoulders of British industry to ensure personal data is handled in the right way or face crippling fines.
It will replace the Data Protection Act 1998 and aims to strengthen the law in line with a digital age.
Point Progress managing Richard Coope said: "GDPR will bring in some frightening new levels of fines for the smallest of businesses.
"Most will hold personally identifiable data, such as employee records.
"Come May, they will need to prove they have their records in order and robust policies in place to protect data.
"We have clients across the country and as we began to put our own policies in place, we realised what a time-consuming task it was.
"We quickly concluded that there must be an easier, more streamlined way of managing this information.
"We struck on the idea of designing i-Comply-GDPR, a tool suitable for any business wanting to prepare and comply with their GDPR responsibilities.
"It has features such as a GDPR Policy Builder, complete with policy templates, and the ability to setup and track data assets, and Subject Access Requests, with reminders and tasks for business users.
"It also retains an audit trail so any business can show they have ticked all the due diligence boxes.
"We believe it is a first and since the launch in January, we have received numerous enquiries."
Father-of-two Mr Coope founded Point Progress in January 2000 after previously working as a technical consultant for SAGE.
To date his core business has been MyExpensesOnline, a Cloud-based system helping people record their expenses via a mobile phone APP.
There are 10 people currently working for Point Progress, a mix of computer programmers, technical support assistants and sales staff.
New roles will be created as i-Comply-GDPR becomes used by companies nationwide.
He added: "Within hours of the i-Comply-GDPR website going live, we had received over 50 enquiries.
"Many were interested to hear what impact Brexit will have on GDPR and the answer is none.
"As an EU regulation it means it will automatically become UK law.
"Worryingly, a Government survey from the start of the year showed that 62% of companies don't know what GDPR is, and of those that do, only a quarter have done anything about it.
"The risks of getting this wrong are enormous."
GDPR will be enforced by the Information Commissioner's Office (ICO) with powers to fine companies who breach the new legislation up to 4% of their turn-over.
For more information on data protection compliance software visit www.i-comply-gdpr.com or call 01270 611800.