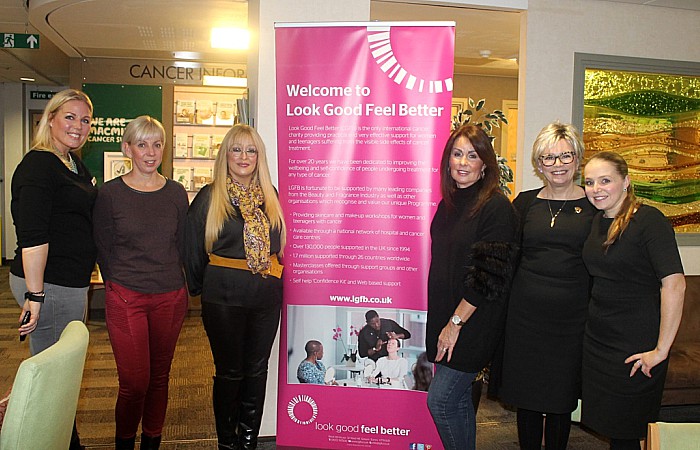 An international cancer support charity has launched its 99th workshop at Leighton Hospital in South Cheshire.
Look Good Feel Better, which provides practical support for people struggling with the visible effects of cancer treatment, is offering free pamper sessions to local cancer patients.
The confidence-boosting workshops started at the hospital's Macmillan Cancer Unit this month and are set to run every other month.
They are led by beauty volunteers who guide women through a 12-step make-up programme, including tips and techniques to help with eyebrow and eyelash loss and changes to the skin.
Those who attend are also presented with gift bags.
These are made up of donations from international beauty brands and allow them to continue pampering themselves at home.
Julie Pieczarka, Macmillan Information and Support Manager at Mid Cheshire Hospitals NHS Foundation Trust, which manages Leighton Hospital, said: "Going through cancer treatment can be a lonely experience.
"These workshops offer an opportunity for women to share some time with people at different stages of their patient journey.
"They're also a chance to learn some simple, practical make-up tips that can help to address some of the physical side effects of their treatment."
The Look Good Feel Better skincare and make-up sessions are held all over the UK for people undergoing treatment for any type of cancer.
The charity also offers teen and young adult workshops and will launch support services for men in 2018.
Staff at Leighton Hospital's Macmillan Cancer Unit found out more about the charity when they were invited to a training session in January.
Here, staff were pampered by volunteers and taken through the two-hour workshop so they could share the benefits with patients.
Sarah Addis, regional manager for Look Good Feel Better, said: "We are so pleased to be able offer our patients the opportunity to come along to the Look Good Feel Better workshops at Leighton Hospital.
"The difference in confidence the workshop and the team have on all the ladies is very rewarding for all those involved.
"As well as feeling pampered, the workshops give the ladies a chance to meet and chat to others that have either been through or going through a similar experience in a fun, relaxed atmosphere."
If you are going through cancer treatment and would like to attend a future session, call Macmillan Information and Support Service on 01270 273603.
(Pic: Top – Sarah Addis (far left) with Look Good Feel Better beauty volunteers at Leighton Hospital's training session)