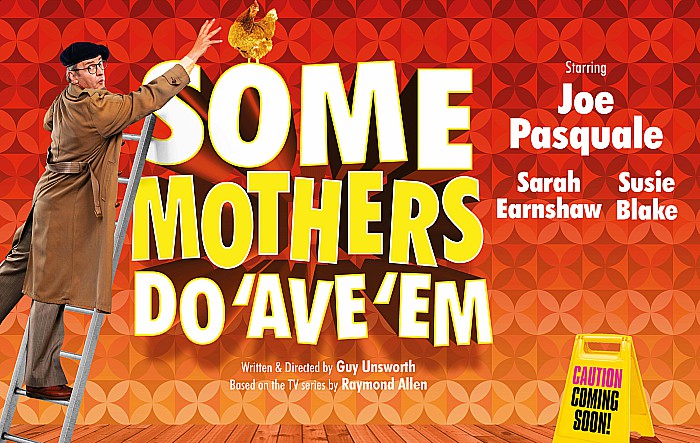 It was one of biggest comedy shows of a decade – and a comedy character remembered and loved by millions.
Now Frank Spencer is about to hit the Crewe Lyceum stage when the first ever production of the TV series Some Mothers Do 'Ave 'Em comes to town during a UK tour.
This time, Joe Pasquale is the lovable but accident-prone Spencer, who was played so brilliantly by Michal Crawford for the small screen all those years ago.
Sarah Earnshaw is his long-suffering wife Betty, and Susie Blake as his disapproving mother-in-law, Mrs Fisher.
The producers have also announced the casting of Moray Treadwell as Mr Luscombe/Mr Worthington, David Shaw-Parker as Father O'Hara and Chris Kiely as Desmond/Constable.
Pasquale says he won't be trying to replicate Crawford's Frank Spencer, but putting his own character into it.
"We have a stunt coordinator and I'm doing it all – hanging by my ankles, chicken chasing and all sorts," he said.
"But we're not doing it as Michael's version of Frank Spencer; that would be an insult to Michael.
"I'm putting my personality into it, which is how to make it believable.
"There's a difference between child-like and childish and Frank isn't childish; he believes in what he's doing.
"We did three workshops and at the last one we had an invited audience who were across an age range of between 18 and 70.
"All the younger people didn't know the show or have a frame of reference with Michael, but they laughed their socks off.
"Even the older people who remember the original, forgot Michael doing it within five minutes – the script is so good.
"It's still set in the 70s, so you get the mustard wallpaper, tank tops and all the trimmings.
"It is so funny and you can take the whole family to see it.
"Apart from panto and maybe musicals there aren't any theatre shows that people of all ages can enjoy together, but this is proper family comedy."
The stage adaptation has been written by Guy Unsworth, based on the original TV series by Raymond Allen.
Unsworth is too young to have seen Some Mothers Do 'Ave 'Em during its heyday of the 1970s, but he is nevertheless a huge fan of Raymond Allen's classic TV sitcom.
"I saw re-runs and I love it," he said.
"The slapstick, the situations and the character of Frank, who is one of the great British underdogs.
"We sort of want him to fail because it is funny when he does, but we root for him to succeed too.
"Frank has the energy and loyalty of a Labrador puppy combined with the morals of his late overprotective mother.
"I was very keen that it shouldn't just be a re-run of old episodes, so it is based on a particular point in Frank's life, when Betty was trying to tell him she is pregnant.
"I knew it had to be something written specifically for the stage – something that would work in a theatre.
"What we have now is quite a traditional British farce, with surprises.
"It is two hours in real time, set one evening when they are expecting people for dinner. Chaos ensues!"
The UK Tour of Some Mothers Do 'Ave 'Em, which opened at the Wyvern Theatre, Swindon on Wednesday, arrives for a week-long stay at Crewe Lyceum on April 3 to 7.
For ticket details for Crewe performances, contact 01270 368 242 or visit www.crewelyceum.co.uk
Also follow www.somemothersdoaveem.com, www.facebook.com/somemothersuk/, and @somemothersuk