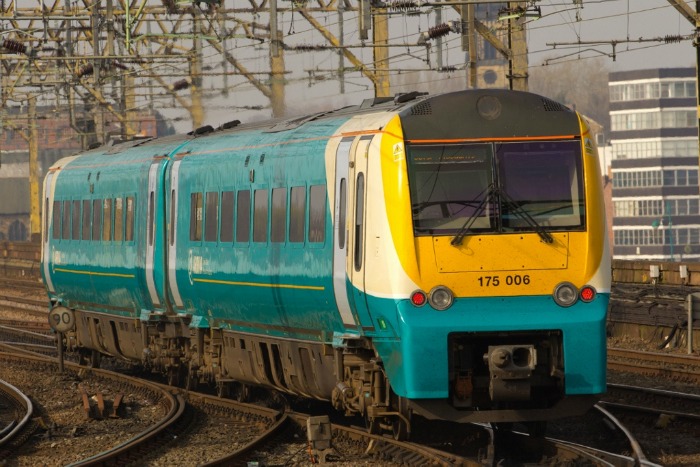 Hundreds of rail travellers in Nantwich and Crewe have been left stranded after Arriva Trains Wales pulled services because they "ran out of trains".
It's believed rail chiefs have been told that a number of trains were potentially 'damaged' by running over a faulty set of points in Wales overnight.
This sparked "extra safety inspections" on its entire 175 long-haul train fleet, and left some routes with no services and no replacement bus support.
The Carmarthen to Manchester Piccadilly train, which calls at Nantwich and Crewe, was cancelled "due to a shortage of trains because of extra safety inspections", says its website.
One source close to the rail operator said a set of faulty points may have damaged some of the wheels – but that the company should know which trains.
"It seems they have lost track of the trains which have gone over it, so pulled the whole stock off," he told us.
"They've rearranged their other units to make sure there is cover for the Welsh routes, but left us with nothing between Hereford and Manchester!
"There can't be that many trains which went over the damaged track. You'd think they had learnt from the fiasco last summer with the football fans.
"It seems everytime something goes wrong, they leave the English passengers stranded."
In June, ATW bosses reduced services on their England-North Wales routes to provide more services for fans attending the Champions League Final in Cardiff, angering many passengers.
In a joint statement, Bill Kelly, Chief Operating Officer of Network Rail and Bethan Jelfs, Customer Services Director of Arriva Trains Wales, said: "Network Rail and Arriva Trains Wales are carrying out essential safety checks on rail infrastructure and trains after inspections of the fleet revealed some damage to particular trains late last night.
"The majority of long-distance Arriva Trains Wales services operating in North Wales, West Wales and the Marches are currently suspended as a result.
"The safety of our customers and our people is a key priority, therefore our frontline staff are currently working hard in very difficult weather conditions to ensure thorough checks are undertaken across fleet and infrastructure.
"Some of our services will be operating with fewer carriages and additionally, given the worsening weather predicted over the next few days, we are advising customers to travel only if absolutely necessary and to ensure that they check www.arrivatrains.wales/check to see if their journey will be affected.
"We are working together to put in place alternative transport for our customers where possible, however, this will be very limited due to weather conditions and the number of services affected.
"We would like to apologise to anyone affected, we thank customers for their patience whilst we work to resolve this issue and remind them to check before they travel."