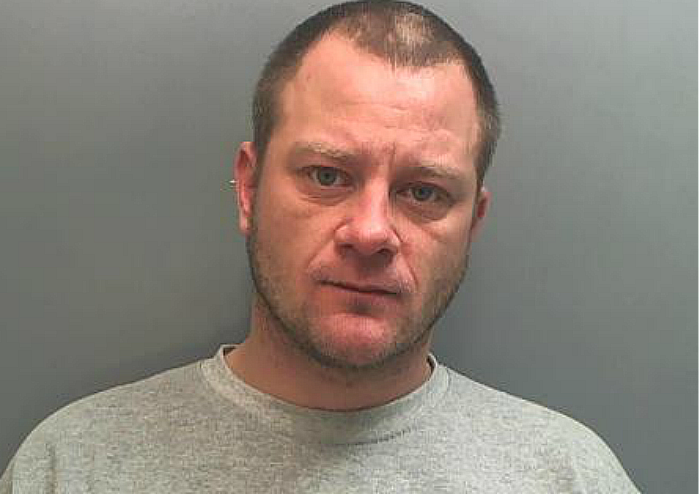 A man who stabbed his victim at a house in Crewe causing him to nearly bleed to death, has been jailed for 10 and a half years.
Jay Maughan (pictured), 37, pleaded guilty to wounding with intent and was sentenced at Chester Crown Court.
The court was told how Maughan and his victim, who were known to each other, had exchanged heated text messages during the day the assault took place on October 25.
The victim – a 32-year-old man – went to confront Maughan at the house he was staying at on Samuel Street in Crewe.
Maughan, of Hollins Road in Oldham, was described by a witness as 'worked up' as the victim banged on the front door and window.
Despite being told not to open the door, Maughan did and both men began fighting and fell on the stairs.
Holding a kitchen knife in his hand, Maughan stabbed the victim and then ran out of the front door leaving him bleeding on the stairs.
In the early hours of the morning, Maughan contacted a friend to say he had messed up "big time" and admitted he had taken the knife with him from the scene as it was evidence, before he ended the call.
He was later located at an address in Oldham and arrested by officers.
Det Insp Claire Jesson, of Crewe CID, said: "The injuries Maughan inflicted on his victim were so severe, had he been left alone he would have nearly bled to death.
"By running away from the scene he showed he didn't care about his victim and was just intent on making sure he wasn't caught.
"I want to take this opportunity to thank all the witnesses who came forward to provide detailed accounts of what took place that day.
"With their help we were able to piece together what happened which has played a part in Maughan pleading guilty and being sentenced.
"Knife crime is an issue that causes serious concern within the local community and we're committed in doing all we can to tackle it."