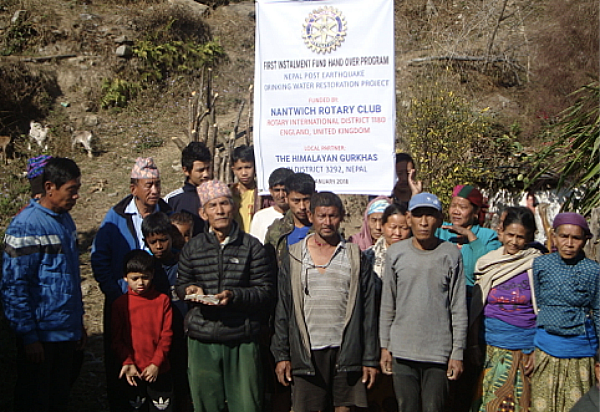 Members of Rotary Club of Nantwich have raised more than £1,600 this year to help a Nepalese village rebuild after the devastating 2015 earthquakes.
So far, rotary members have donated £5,000 to Ghanpokhara Village which has helped to rebuild their drinking water source.
The earthquakes decimated large areas of Nepal in 2015, causing a humanitarian crisis of unprecedented scale.
In February, Nantwich Rotarian Phil Pinnington wrote and presented his one-man show "For those Who Dare" at the Nantwich Players Theatre, raising £800.
And in March, the club held a fund-raising metal detecting day at Organsdale Farm in Tarporley.
More than 100 detectorists combed the fields of Organsdale Farm – donated by Robin Latham – from 8am until late through wind and rain.
Although no major finds were uncovered, an interesting Roman eagle brooch and a C19 coin worth about £300 along with several modern pound coins kept the interest going.
The club's international committee chair John Crowe said: "The Nantwich Rotary Club International Committee continues to be very active in raising money for people in dire straits.
"In future, money raised will go to countries other than Nepal as we have been supporting them since the earthquake two years ago.
"But the £1,620 raised so far this year brings our total donation to £5,000, which will restore drinking water to 27 households and 165 villagers in the remote Lamjung District of west Nepal.
"The £5,000 raised by the Nantwich Club has been deployed by the Rotary Club of the Himalayan Gurkhas and every penny raised goes straight to the people who need it."